Trip to the Schlei fjord
Published in Dinghy Cruising Journal
This year Klarie and I wanted to take Hatseflats on a trip to explore new sailing venues in Northern Germany and Denmark.We were inspired by Sam Griffiths' report in DCJ 238 to visit the North Frisian islands.We planned to go to the Schlei fjord, sail on the Lille Baelt in Denmark, visit the North Frisian islands, and finally join the Noorderraid which would be held on the Lauwersmeer in the North of Holland in early August.The idea was to launch Hatseflats near Schleswig in the west and sail to Schleimunde, overnighting at waterside campings.
We set off on Friday morning. Before we got to Bremen the traffic was already quite busy. South of Hamburg the traffic got much worse and we lost a few hours driving slowly through the many roadworks.We made a detour to the camping at Schlei-Karschau just west of Arnis (the smallest town of Germany). The camp site was friendly and very clean with a little harbour for camping guests.
On Saturday we launched Hatseflats from a public slip across the road. As we sailed off there was a string of yachts heading west to Landaunis. We crossed the Schlei and anchored to have lunch. We hoisted sail again and headed to Arnis with a W2. Most of it was running and reaching. On our trips on the Schlei we navigated using the Jubermann TA1 atlas. These 1:25000 maps provide much information including camp sites, youth hostels etc. Accommodations are listed at the back complete with web sites and contact information. We passed Arnis with its boatyards, chain ferry, waterside cafes and many boats moored alongside the Schlei. After Arnis we continued to Kappeln.
The wind dropped and we turned around before the bridge at Kappeln to get back at the camp site before dark. We enjoyed the landscape with farms and fields on the rolling hills, and houses and trees on the green banks. Back at Arnis I started rowing to keep out of the way of the chain ferry. As we approached Karschau we passed a couple of yachts anchored for the night. We returned at 1830 hours.
Total distance 11nm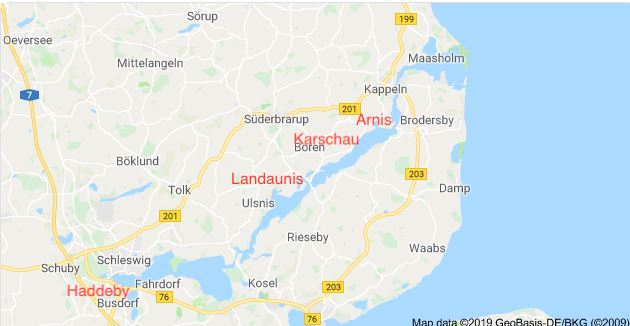 The Schlei Fjord