Raid Extreme Germany
At the end of our stay at the EM2 campus in Stralsund, Klarie and I took part in the Raid Exreme Germany challenge. There were 13 boats from Germany, Switzerland, Czechia and the Netherlands. Most of the sailing canoes were equipped with EM2 sailing rigs. The dinghy division consisted of Hatseflats and Goat Island Skiff GISwerk, now under Czech ownership.
Aboard Hatseflats
During the week we had explored the Strelasund, a beautiful sailing area in the extreme north of Germany near to the Ostsee. The winds were predominantly W2-3 with gusts but we found we could handle the gusts by sitting out. After trips to Altefahr, Deviner See and Stahlbrode we were now more familiar with the sailing area. The weather forecast for the Raid Extreme Germany was not very promising: the day would start with a measly W1 veering to N and then to E only rising to a force 2 late in the afternoon.
With these light winds it would be nearly impossible to collect all 5 treasures. So organisers Bert and Ingo put in only 4 treasures to shorten the course to 43km. At the briefing they shared the GPS locations with the skippers. The skippers unanimously voted to start at 0700 and finish at 1800 hours to make the most of the conditions.
At 0600 in the morning everybody collected their first mug of coffee and made their last preparations and tweaks. There was no need to prepare breakfast as the kitchen crew had prepared lunch boxes to all sailors.
Just before 0700 hours the boats were all lined up at the EM2 beach when Ingo started the event with a horn signal.
I rowed Hatseflats away from the shore and hoisted the sail. We got underway with the leading group in a little breeze. Unfortunately we got stuck in the shallows outside the shipping lane. We were overtaken by quite a few boats while I pulled up the daggerboard and rowed to deeper water. In the dying wind it was a long stretch to our first waypoint. Although we had more sail power the canoes were quick on the broad reach with their narrow hulls. The three Artemis canoes were out in front, followed by Helmut and Roland who doubled their horse power having set up their big Klepper canoe for two-up action with double paddles.
Ladia and Mischa overtook us but lost out again when they dropped their rig and turned to rowing. We collected our treasure (a walnut) at the first GPS location just off the Strelasund seconds before Michael arrived with 'Kahla'. We collected our second treasure (an apple) just after Bert and Fine and saw Ingo sailing in the distance. As Klarie and I tacked out of the Wamper Wiek we battled with Bert and Fine. Having better upwind speed we quickly gained height on Ingo and turned into the Strelasund, where we got aground again. This time we got stuck at the notorious Deviner Haken. The canoes of Bert and Uli passed us as we trying to get out of the shallows. When there was a little wind we got the lead, only to lose it again when the wind died down. So we started rowing to get in front. This way we stayed just ahead of Uli, Bert and Fine until we reached the third treasure location, the fish stall at the Glewitzer Fahre. In return for the code word, the lady at the fish stall handed me a 'fish brotchen'. As I returned to Hatseflats, Bert and Fine were just arriving, which gave us a few minutes headstart.
Meanwhile the wind had finally settled to an E2-3 and we were able to reach to Dremt, our final treasure location. As we looked back we baw Uli returning to base camp. Soon we crossed Dirk and Timon on their way back, landed on the beach at Dremt and found the hollow tree with the treasure eggs. As I returned to Hatseflats, Bert and Fine were just arriving on the scene. We quickly got away to keep in front. After broad reaching for a solid one and a half hours we returned to the EM2 beach, only minutes before Bert arrived. It had been very exciting to spend ten hours racing in close company.
Conclusion
The three Artemis canoes were fastest around the course chased by Helmut and Roland's big Klepper and Ingo E. and his Bavarian Mustang. However the main battle was fought by Koos and Thomas who paddled even while sailing to get in front of each other.
The Raid Extreme Germany was well organized with eco-friendly treasures, lunch bags for everybody and VHF radios and phone numbers for communication with the sailors. Since all boats sailed the same course, the racing was very close - so much more enjoyable than sailing on your own.
Over dinner the results were presented and prizes handed out to the winners:
Koos - Artemis canoe 'Wolf'
Thomas - Artemis canoe 'Pippilotta'
Axel - Artemis canoe 'Artemis'
Helmut and Roland - Klepper Aerius XXL
Ingo E. - Bavaria Mustang modified for canoe sailing
Hubert and Klarie - sailing pram 'Hatseflats'
Dirk and Timon - Lettmann Summerwind with EM2 ketch rig
Bert and Fine- Lettmann Malecite 490 'Vetinari' with EM2 Albatros rig
Ladia and Mischa - Goat Island Skiff 'GISwerk'
Ingo Muller - Lettmann Summerwind 'Galactica' with EM2 ketch rig
Michael - Lettmann Malecite 490 'Kahla' with EM2 Albatros rig
Stephan - Itiwit X100
Uli - Pionier 540G 'Pusteblume' with EM2 ketch rig
Finally: the Strelasund is a spectacularly beautiful sailing area, well suited for a challenge like the Raid Extreme. Well done, Bert and Ingo! We hope to return another time!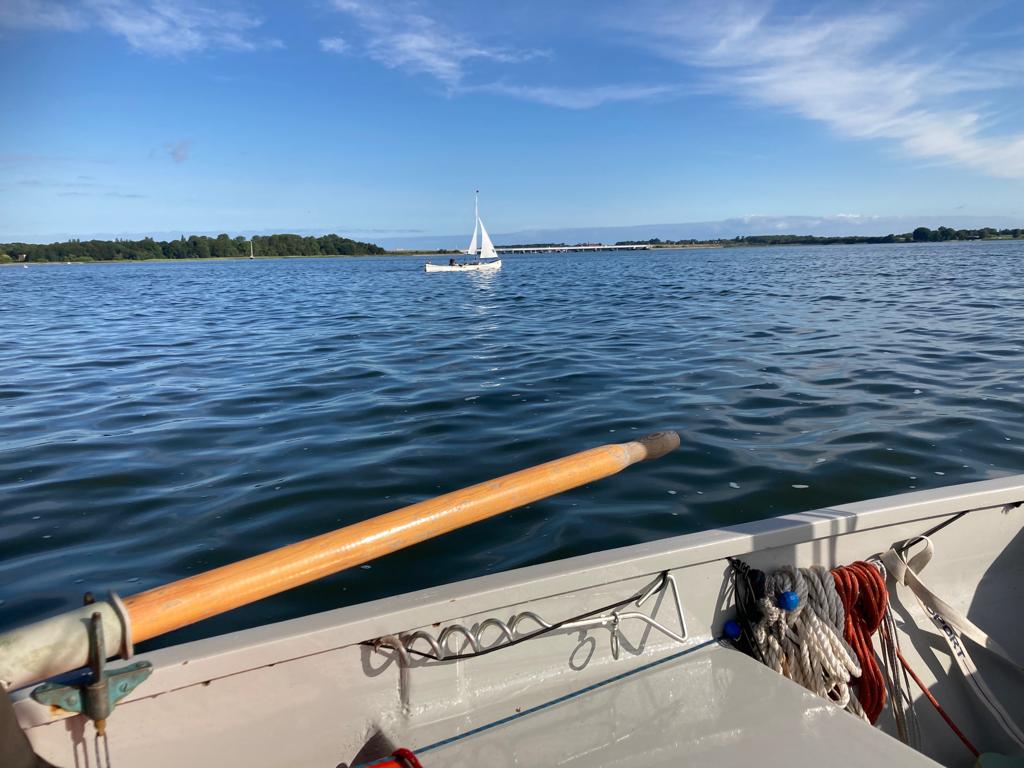 Michael seen from Hatseflats. Photo Klarie Bakker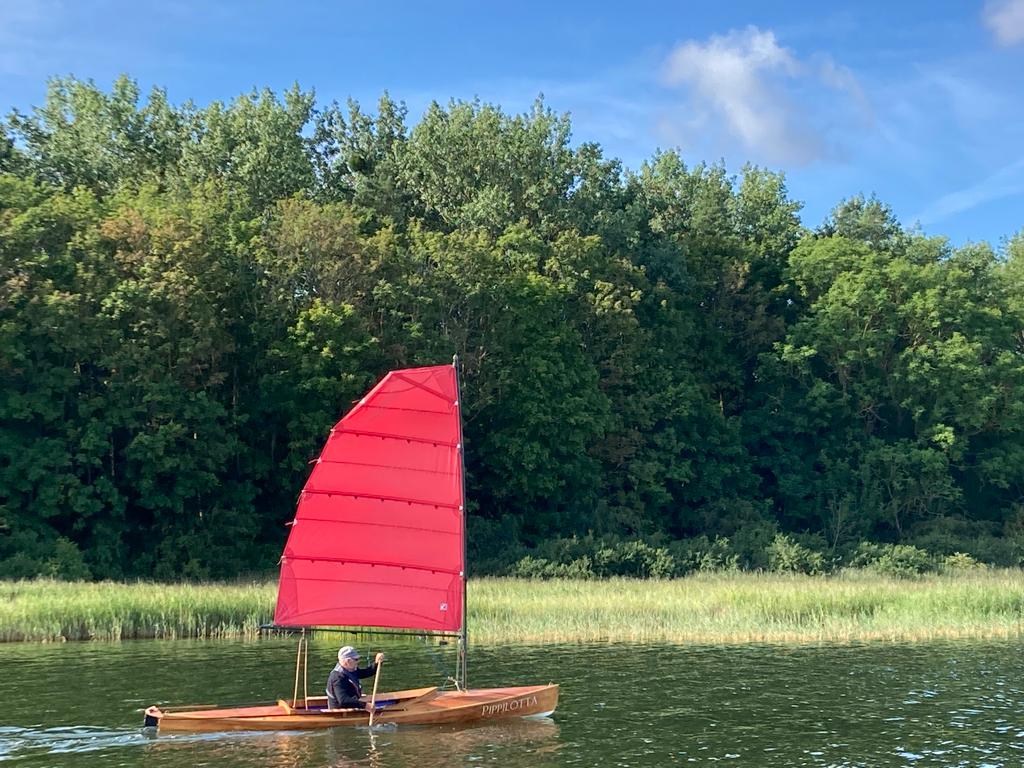 Thomas paddling Pippilotta. Photo Klarie Bakker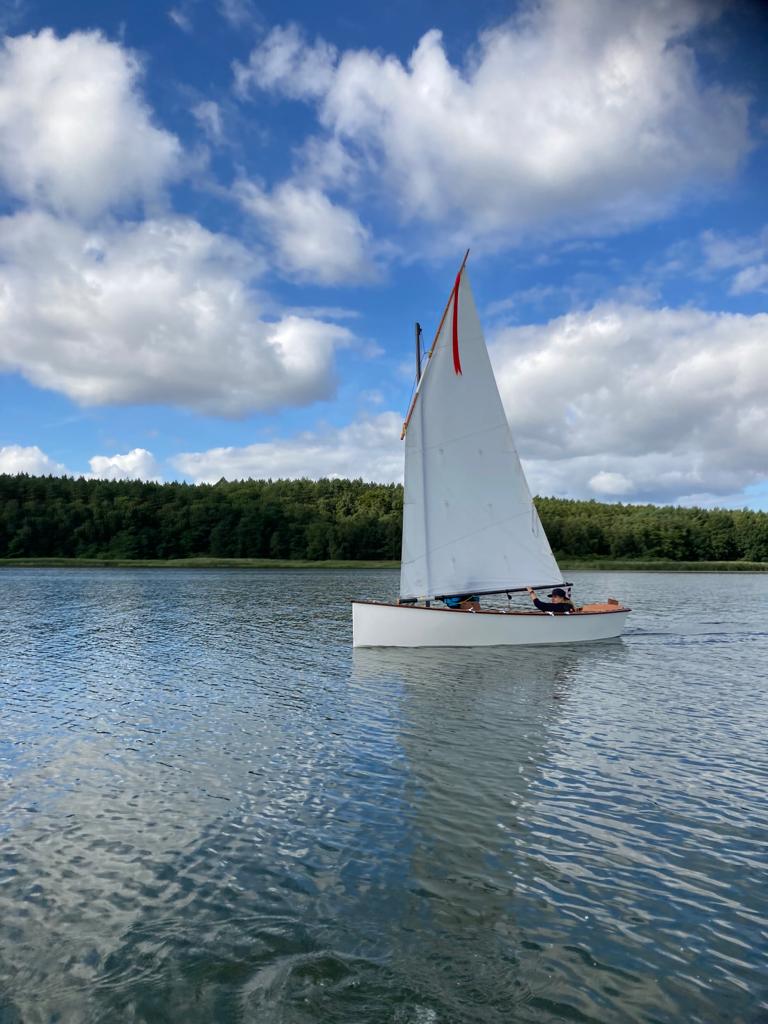 Ladia and Mischa sailing GISwerk. Photo Klarie Bakker
Sailing on the Strelasund. Photo Uli Hestermann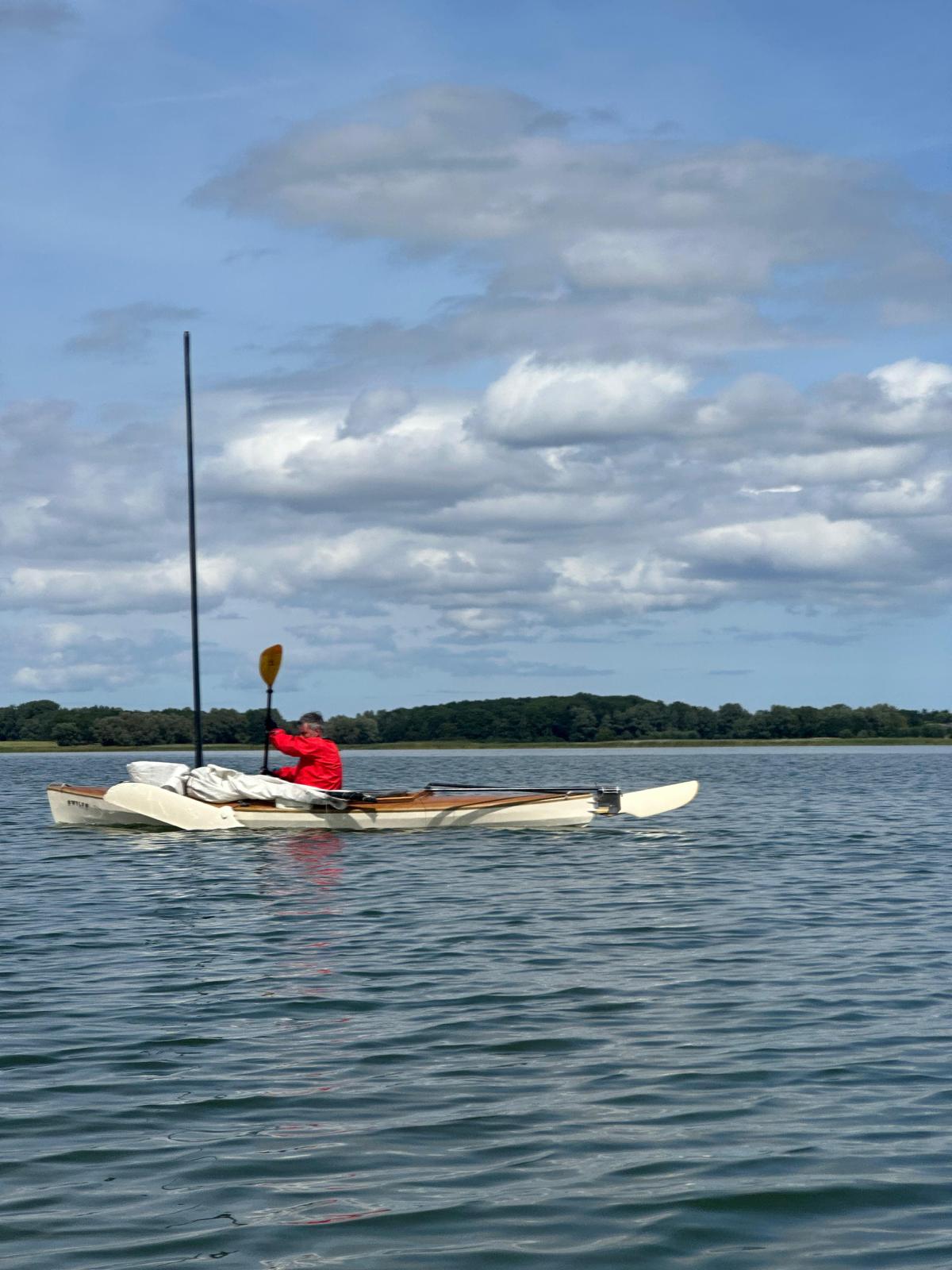 Koos paddling to victory. Photo Michaela Dvorakova.
Smiles for Bert (l) and his father Ingo (r). Photo Hubert Bakker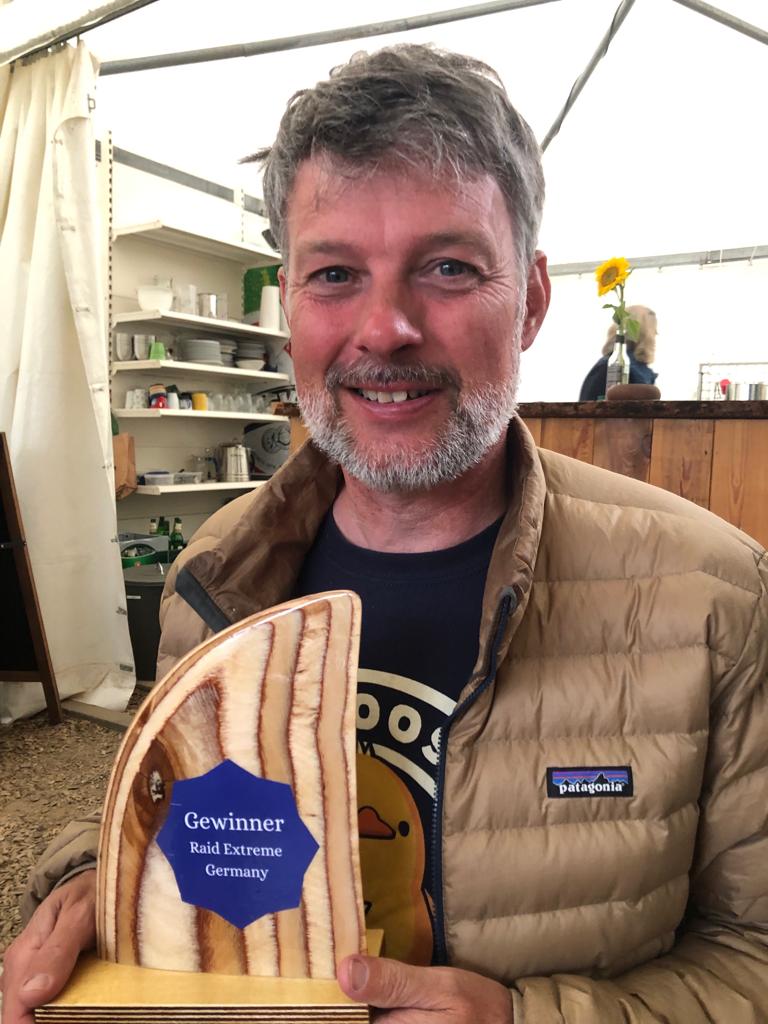 The winner: Koos Winnips. Photo Klarie Bakker