20180624
20180625
20180626
20180627
20180628
20180629
20180915
20181014
20190422
20190510
20190511
20190512
20190525
20190601
20190803
20190804
20190805
20190807
20190819
20190820
20190821
20190822
20190823
20190828
20200216
20200603
20200612
20200712
20200718
20200719
20200727
20200822
20200905
20200910
20200911
20200912
20200913
20200920
20210305
20210509
20210724
20210905
20210912
20211003
20220430
20220508
20220603
20220618
20220821
20220828
20220904
20220911
20221009
20230423
20230520
20230528
20230625
20230805
20230806
20230810
20230903
20230906
20230910
20230911
20231001
20231008
&lt&lt
&gt&gt
20230906
Dokkum to Akkrum
After the Raid Extreme I wanted to sail Hatseflats from Dokkum to Akkrum, the starting place for the 2023 Dorestad Raid organized by Natuurlijk Varen. Since the predictions were for E2-3 I planned to sail the entire distance in a single day. Around 50km, split evenly in the parts Dokkum-Leeuwarden and Leeuwarden-Dokkum. It should be possible if I could average between 2.5 and 3 kn.
The planned route was:
Dokkumer Ee to Bartlehiem
along the Alddeel towards the Himpensenser Wielen at the east end of Leeuwarden
past the Langedeel Aquaduct towards Wergea
along the Eagumerdjip towards Grou
across the Pikmeer to Nes and finally Akkrum
Tuesday 5 September
I hoisted sail at 0915 and turned into the Dokkumer Ee. It was still not too hot and there was just enough wind for broad reaching. After Birdaard I crossed our neighbours Peter and Sylvia who motored their big cat towards Dokkum. It was slow going. When I reached Bartlehiem I took a photo as a reminder of its tranquil beauty. By now I was running behind schedule. Instead of Akkrum I was now hoping to make it as far as Grou.
I briefly tacked up the Alddeel but soon gave up, because rowing would be quicker. Around 1530 hours I reached the outskirts of Leeuwarden. The Alddeel was too narrow for rowing but once I got to the Himpenser Wielen I was able to sail again. I skirted Wergea and sailed side by side with a classic Swedish wooden yacht for awhile. After the Tutsebrege I was on my own again. At 1915 hours I moored at the Leechlan boatyard near the Pomprak and put up my little tent on deck. I enjoyed my meal of chicken satay, rice and salad and went to bed.
Wednesday 6 September
The night was not too hot so I slept well. In the morning I took it easy and resumed my trip around 1030. Soon I rowed through Grou, crossed the Prinses Margrietkanaal and raised sail on the Pikmeer. There was enough wind for some glorious sailing. I passed the Bokkumer Mar, reached Nes via the Nesker Sylroede and passed the Leppe Aquaduct towards Akkrum. Before Akkrum I switched to rowing again. The railway bridge opened for me so I quickly made my way through Akkrum only to forget to turn into the Meinesleat. When I realised I was rowing up the Kromme Knilles back to Grou I quickly corrected my mistake, got back on the Meinesleat and moored at the Drijfveer around 1330 hours.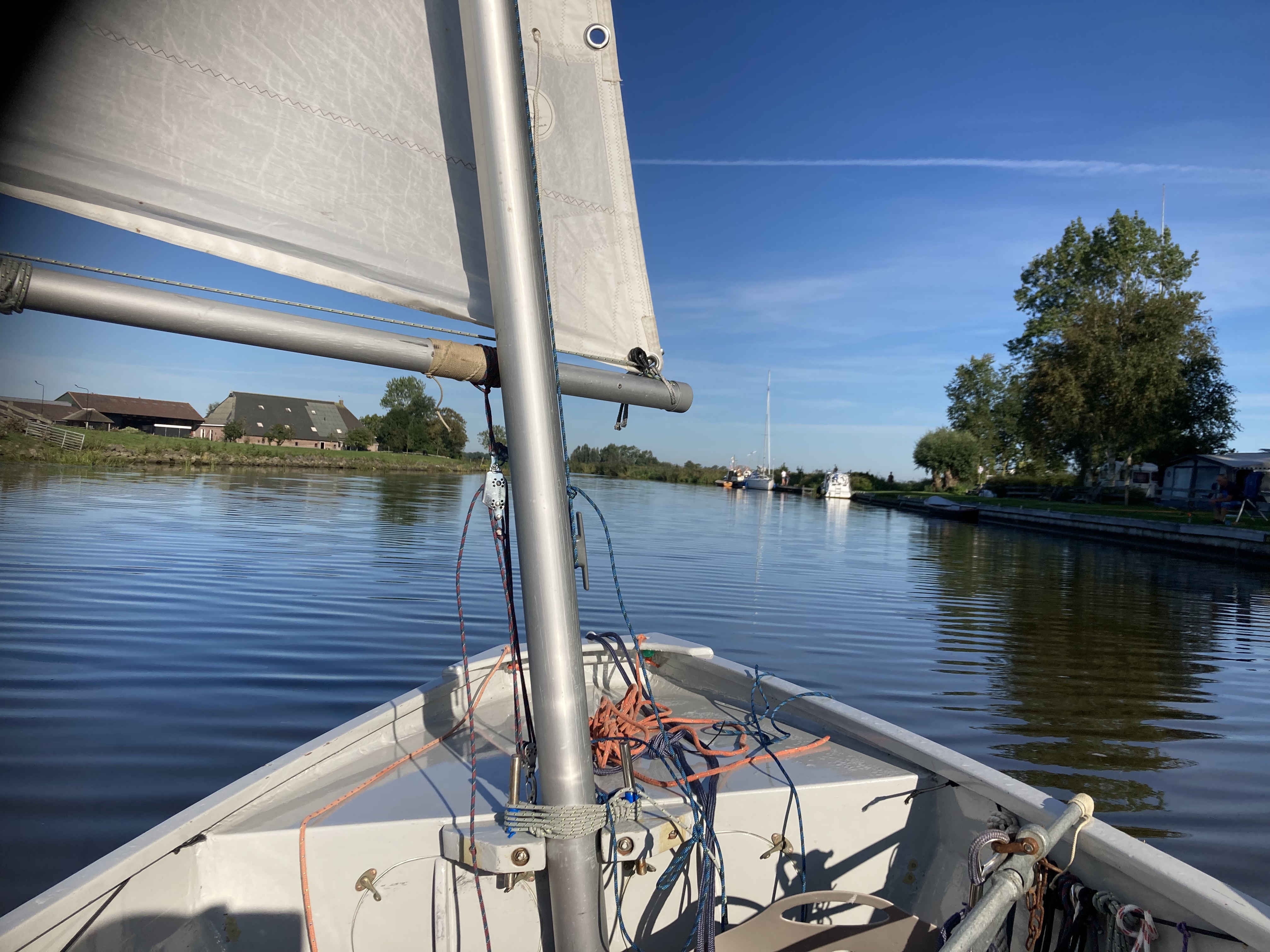 Sailing on the Dokkumer Ee.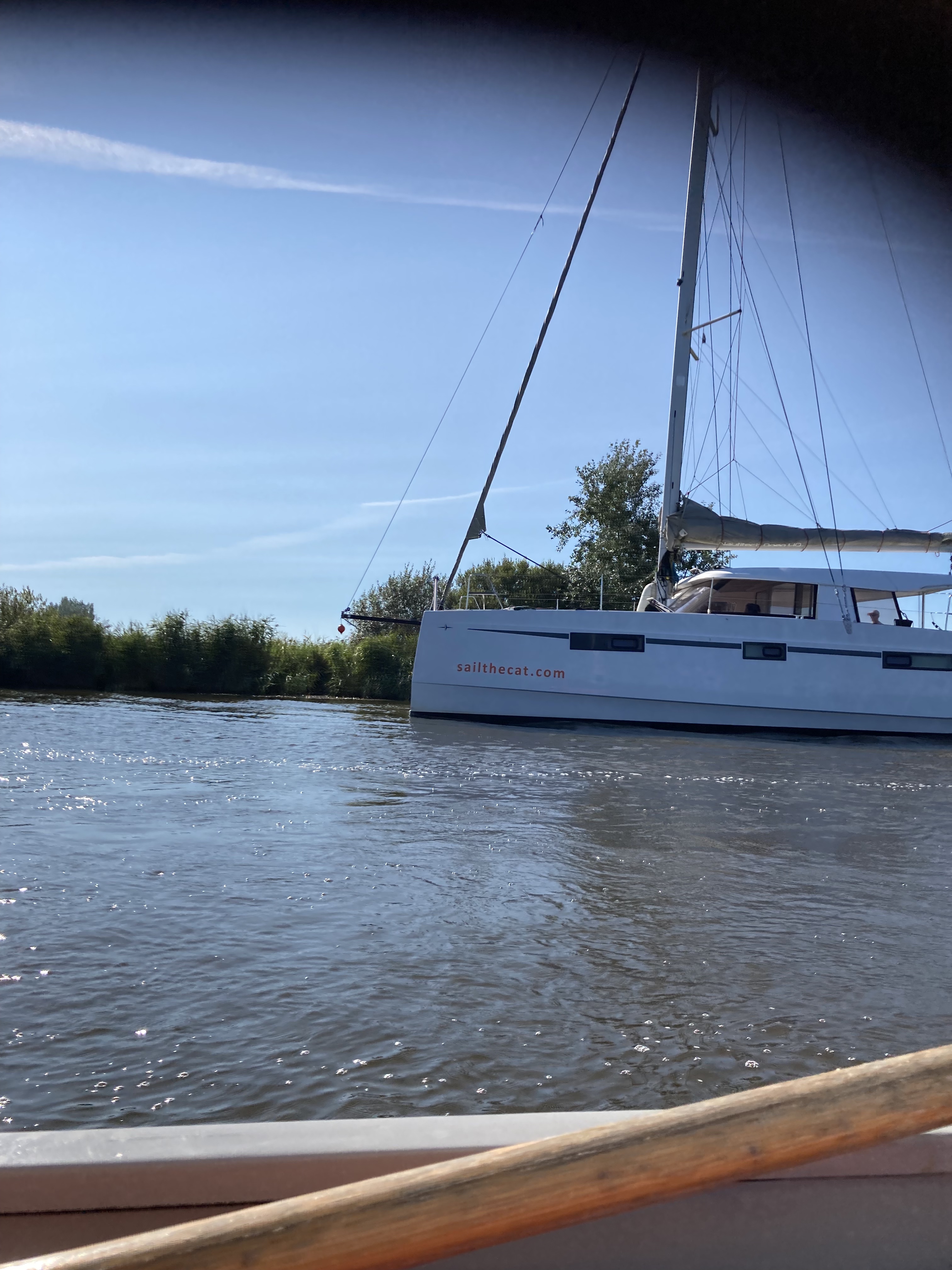 Crossing the big cat of my neighbours.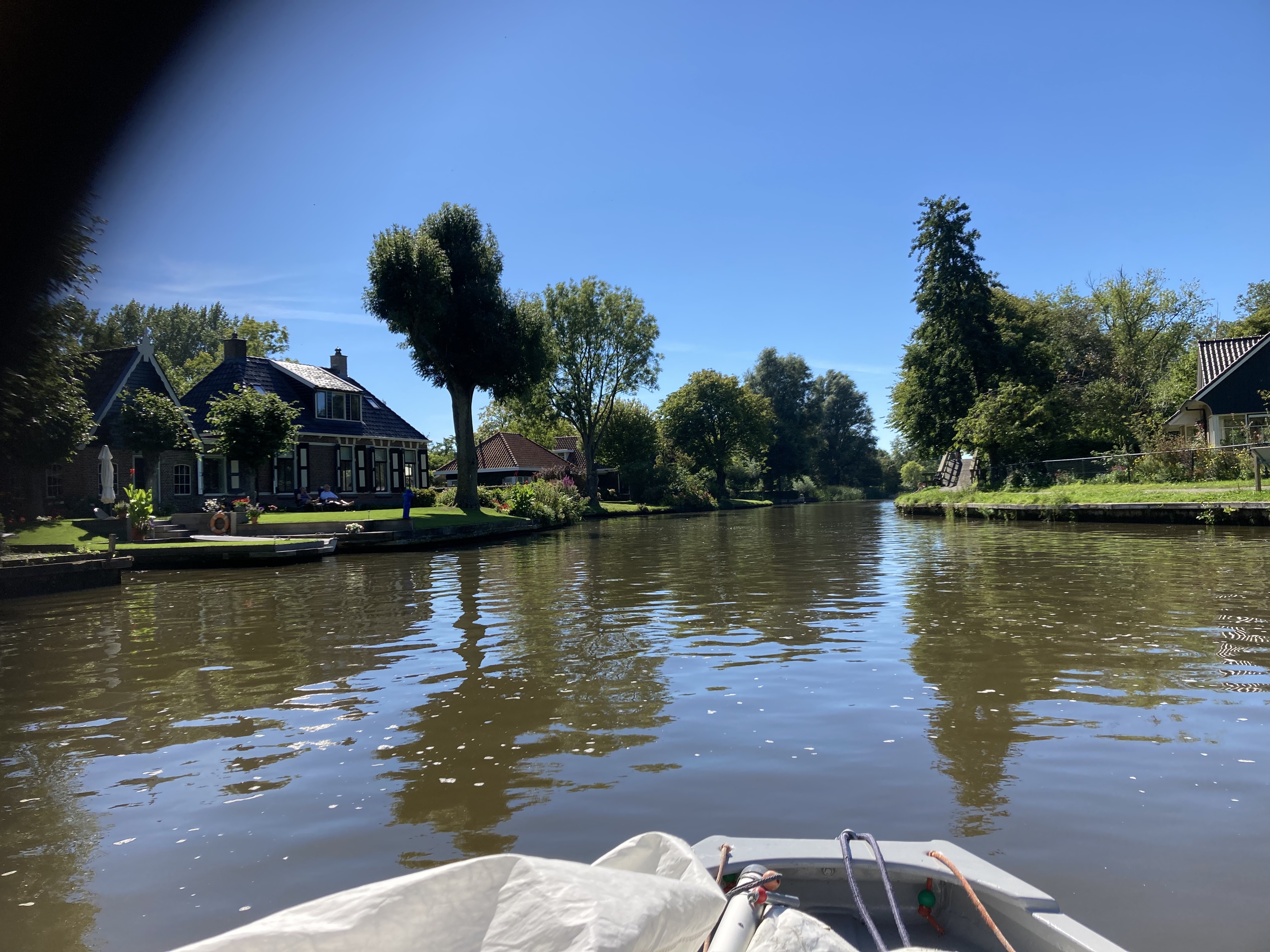 Tranquil and beautiful Bartleheim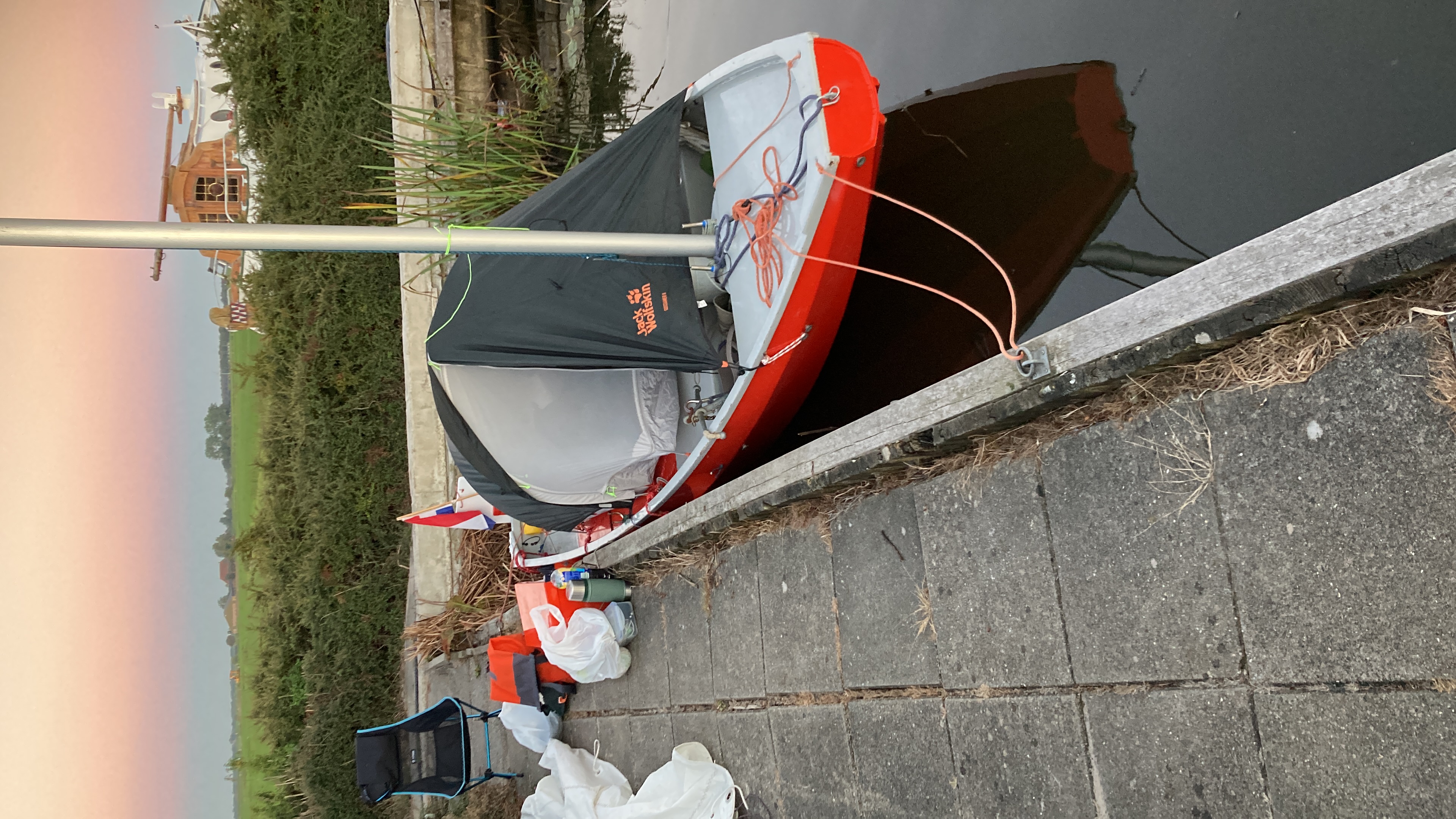 Preparing Hatseflats for the night.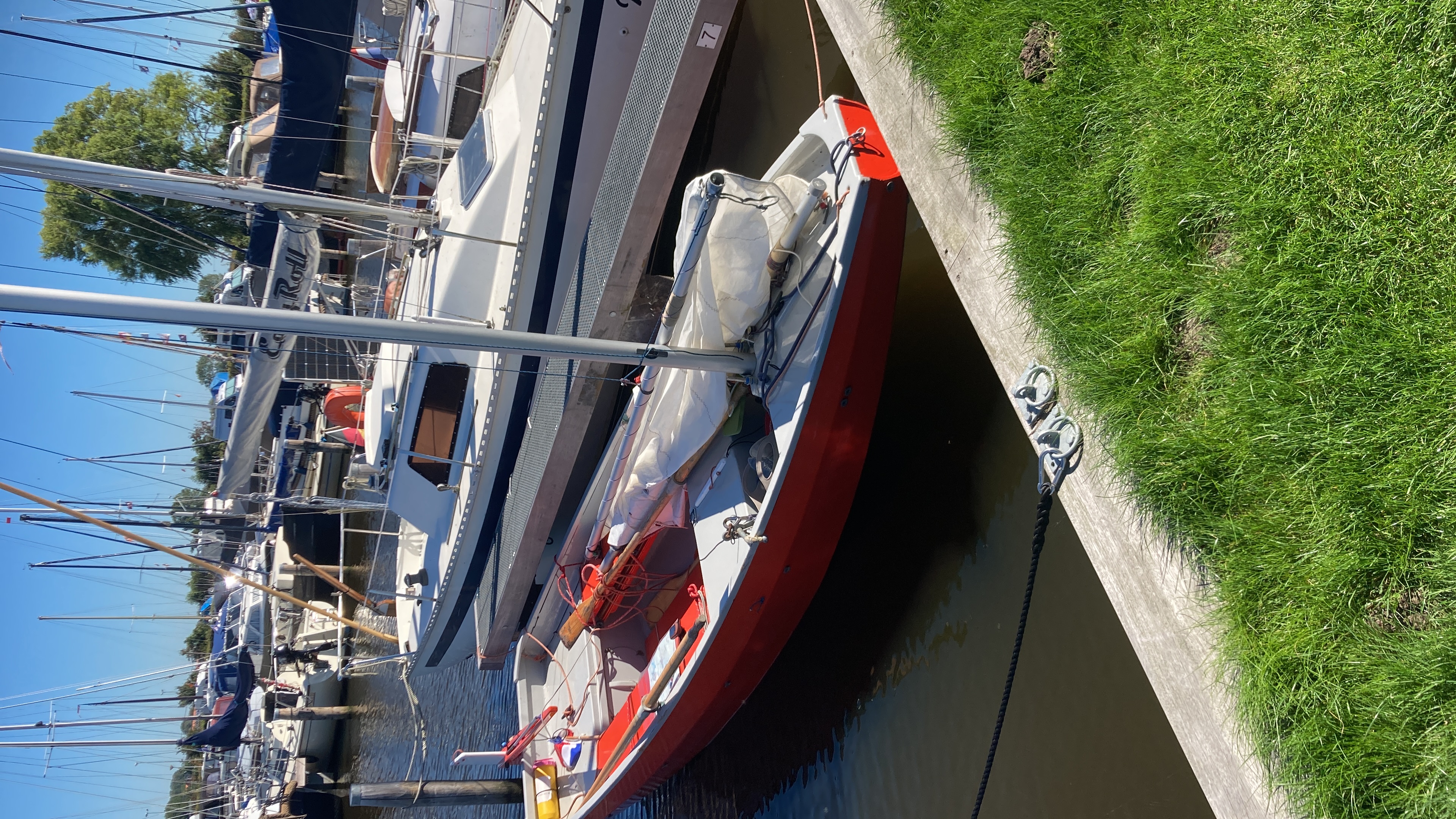 Arrived in Akkrum.