Entre Terre et Der 2022
As Joost Engelen and Hubert had thoroughly enjoyed the 2021 Lac du Der autumn meeting, Hubert and Koos gladly signed up for the 2022 edition. Our friend Rene also joined to crew on Hatseflats. Koos, Hubert and Rene travelled with one car, one trailer and two boats to Giffaumont in the Champagne region.
The event had grown to 39 boats but the Ecole de Voile at Giffaumont was able to provide catering and accommodation for all. Koos camped on a nearby camping for a bit of quiet while Rene and Hubert enjoyed the luxury of a 5-person room with a WC and bathroom. The weather was unusually mild although the mornings were quite cold.
Friday 7 October
We made an early start from Dokkum. We had been warned to fill up our cars with fuel before entering France. With the refinery workers on strike, 1 in 3 petrol stations were out of fuel. After a fuel stop at the last petrol station in Belgium we arrived at Giffaumont late in the afternoon.
It was too late to launch our boats and go sailing but we were well in time to join the aperitifs. There were many friends from last year and met fellow Dutchman Jaap who would be sailing on a Seil. Apart from the French and Jaap there were some British expats and one or two Swiss boats. Also a number of Belgian kayakers with some beautifully built wooden kayaks.
The catering ladies from the sailing school had prepared a delicious Choucroute a l'Alsace with excellent wines and cheeses.
Saturday 8 October
We launched our boats after breakfast. It was a very cold morning.
I had forgot to bring my warm trousers. So I decided to brave the conditions wearing shorts and a fleece instead of putting on my oilies. After the briefing we took to the water. It was still cloudy. The light SW2 made it chilly.


We checked out the boats on the water. Like last year there were quite a few Skerries and other CLC designs. But also a couple of Goat Island Skiffs, Ilurs, and Seils.
A number of old faces had new boats: Christopher and Christine were sailing their new CLC Passagemaker Dinghy, Marco sailed his new Viola, Yves and Jean-Louis were sailing their new Silmarils. The newest boat belonged to Emmanuel and Ans: the new 'Vita Brevis', also known as the Silmaril XL.
As there was not much wind, many boats boosted their performance by sporting jibs and gennakers. Or perhaps because the extra effort warmed them up. Without a go-fast sail, we fired up the Bialetti and warmed ourselves with coffee while sailing.
In the afternoon the weather cleared and the sun broke through. We lunched at the Port de Nemours at the other side of the Lac du Der. It was so shallow that we raised the rudder and daggerboard, lowered the rig and rowed into the marina. The marks on the mooring posts showed that we were now several meters below the normal summer level.
The afternoon sailing was very enjoyable but in the end it got a bit chilly so we returned to Giffaumont. Outside the marina we dodged between the many anglers on the water and alongside the channel. As we got nearer we were greeted by the jazzy tunes of a horn band playing on the footbridge overhead. Once we found an empty spot for Hatseflats the band started playing on the jetty amid the moored boats. A perfect end of the afternoon.
After the dinner of 'moules et frites' there were various presentations. Emmanuel presented enthusiastically about the recent Challenge Naviguer Leger which was held in the Netherlands. Followed by Hubert speaking about the Raid Extreme and Dorestad Raid in his schoolboy French. There is a growing and mutual interest in exploring each others countries so further excursions to France and the Netherlands are likely.
After presentations from Jerome and Van about sailing on the river Loire and kayaking on the river Dordogne it was time for bed.

Sunday 9 October
The briefing was for a morning sail followed by lunch in the marina to allow those who wanted to leave in the afternoon.
Hubert swapped boats with Yves. Rene and Yves sailed on Hatseflats. Hubert was very happy to sail with Annick on Yves' Silmaril which he had first launched in June. The Silmaril proved a very quick boat and a delight to sail.


Today's route took us over very shallow parts of the lake. Once you could see the rocks underwater it was nearly too late. Annick saved the day by constantly keeping a lookout and raising centerboard and rudder as we sailed over shallow patches. She proved a good sailor in her own right as we sailed upwind back to the marina.
After lunch we said our goodbyes to the early leavers and went back to our boats. Since we did not have to return to work we sailed until it cooled off.
I admired Frederic's very pretty V-bottomed hard chine Kuluxka, a 'Kanoteko' design by Phillipe Saint-Arroman. Koos enjoyed the conditions with just enough wind for 'planking' (sitting out on his hiking board to balance his sailing canoe).
After a good dinner at La Pirogue Bleue in Giffaumont, a good night's sleep and breakfast at the sailing school it was time to go home again. On the road we came across long queues at the petrol stations. The days of carefree travelling are clearly gone. We reached Belgium, filled up with fresh diesel and continued to our home town Dokkum.
Hopefully we will be able to spend more time sailing in France next year.
See also:
'3 Dutch guys go to France', video by Koos Winnips: https://youtu.be/abix4EjBwj0
ETD2022 - Lac du Der, Google Photo Album: https://photos.app.goo.gl/GNrsJXpc3fQFPnie8"
The sailing club at Giffaumont. Photo Emmanuel Conrath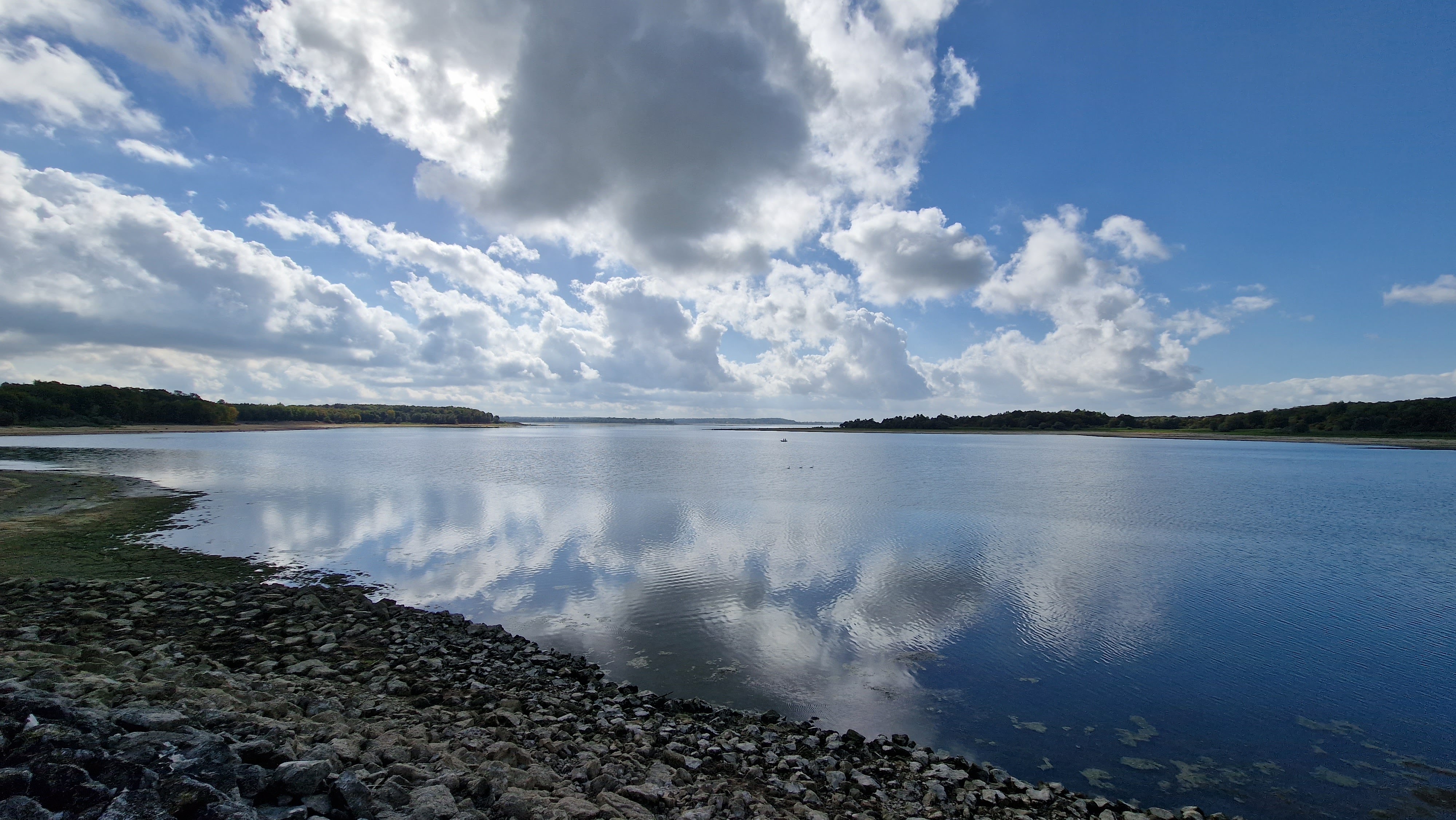 Quiet on the Lac du Der. Photo Ronan Larvor
Leaving Port de Nemours after lunch. Photo Emmanuel Conrath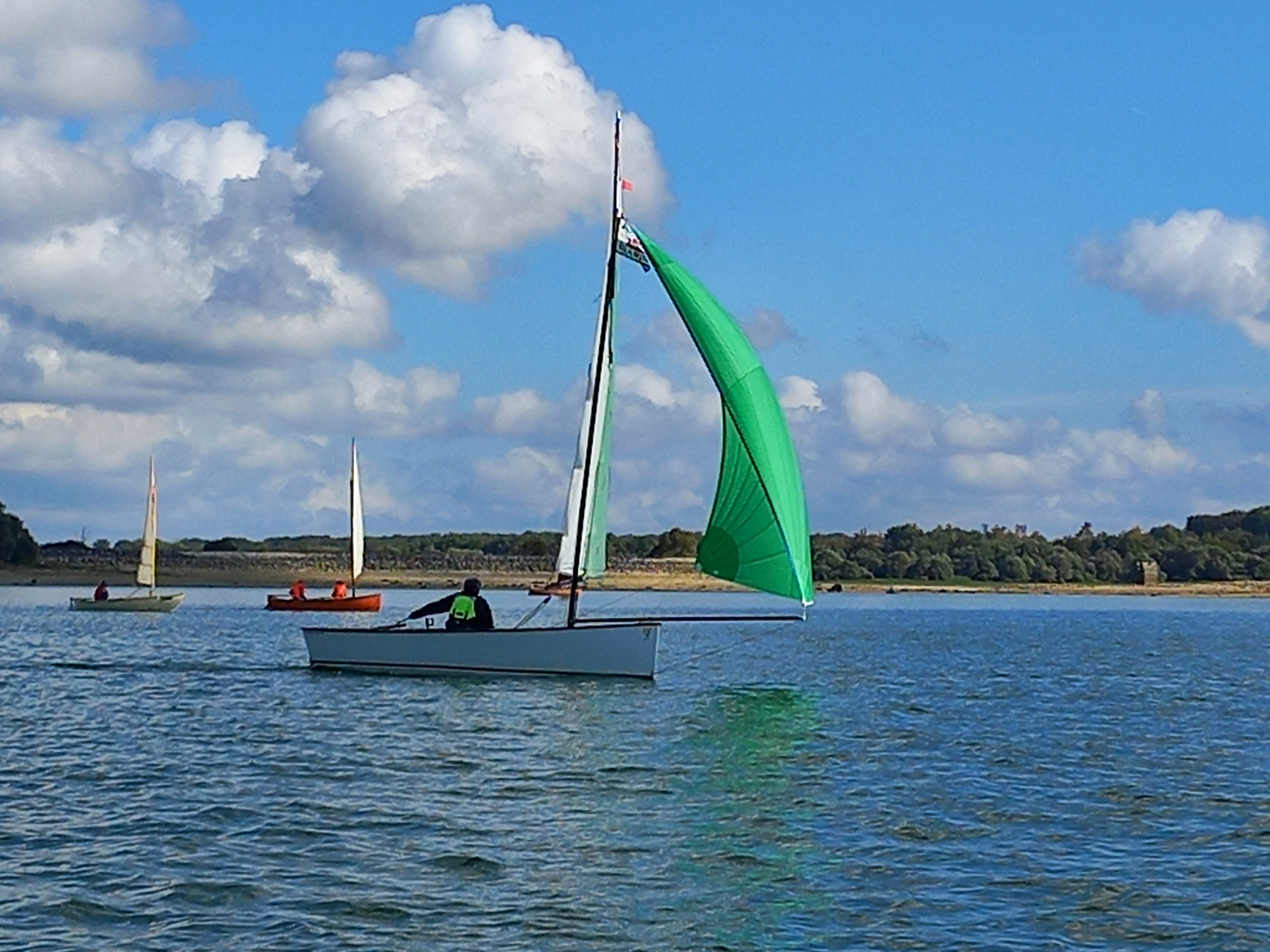 Pierre Mucherie on Goat Island Skiff with gennaker. Photo Emmanuel Mailly
One of the pretty kayaks under sail. Photo Emmanuel Conrath
Le president' Christophe Lattach sailing his Ilur. Photo Emmanuel Conrath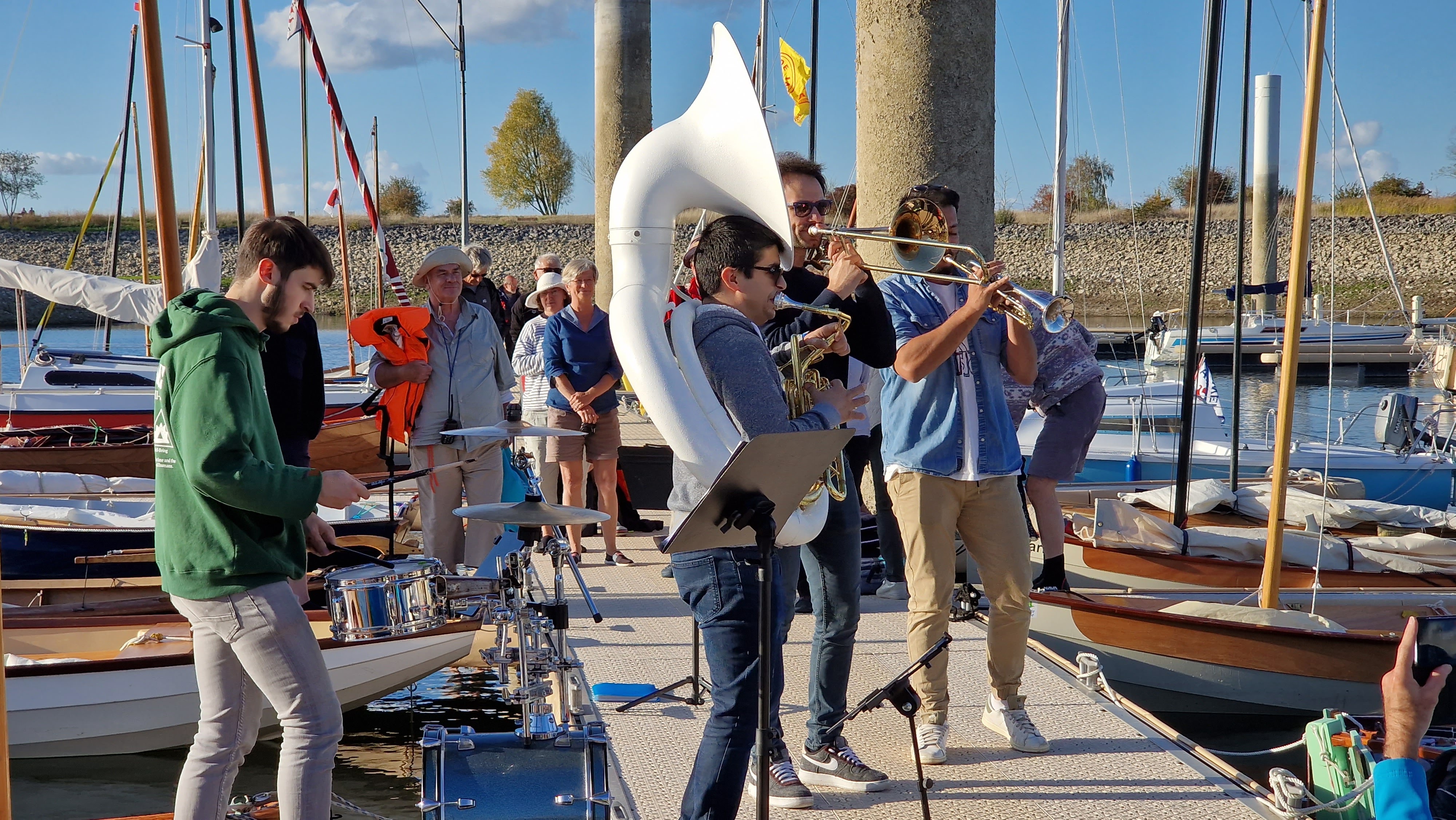 Music in the marina. Photo Ronan Larvor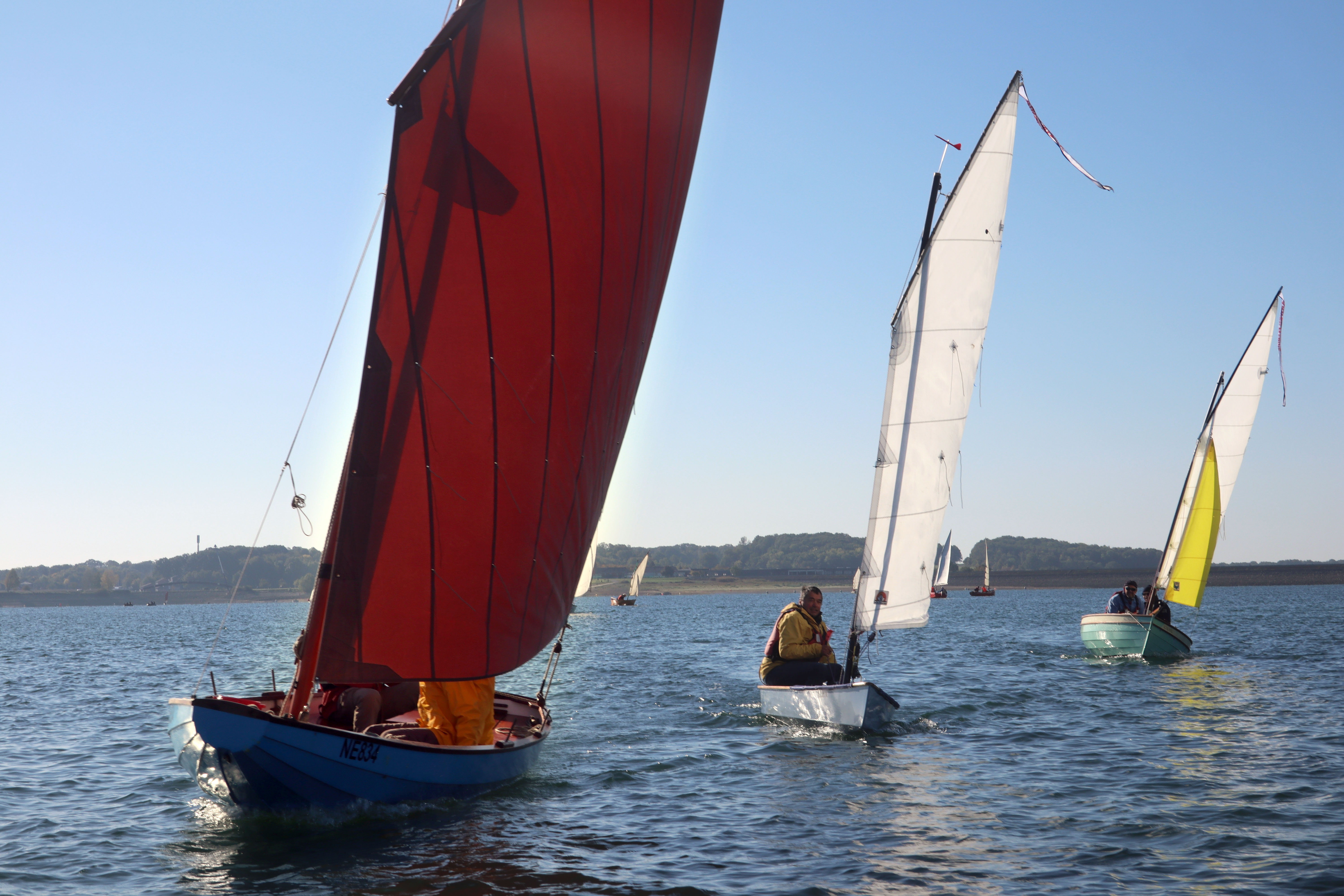 Swiss Seil, Marco's Viola and Morbic 'Azaghal'. Photo Edouard Sautai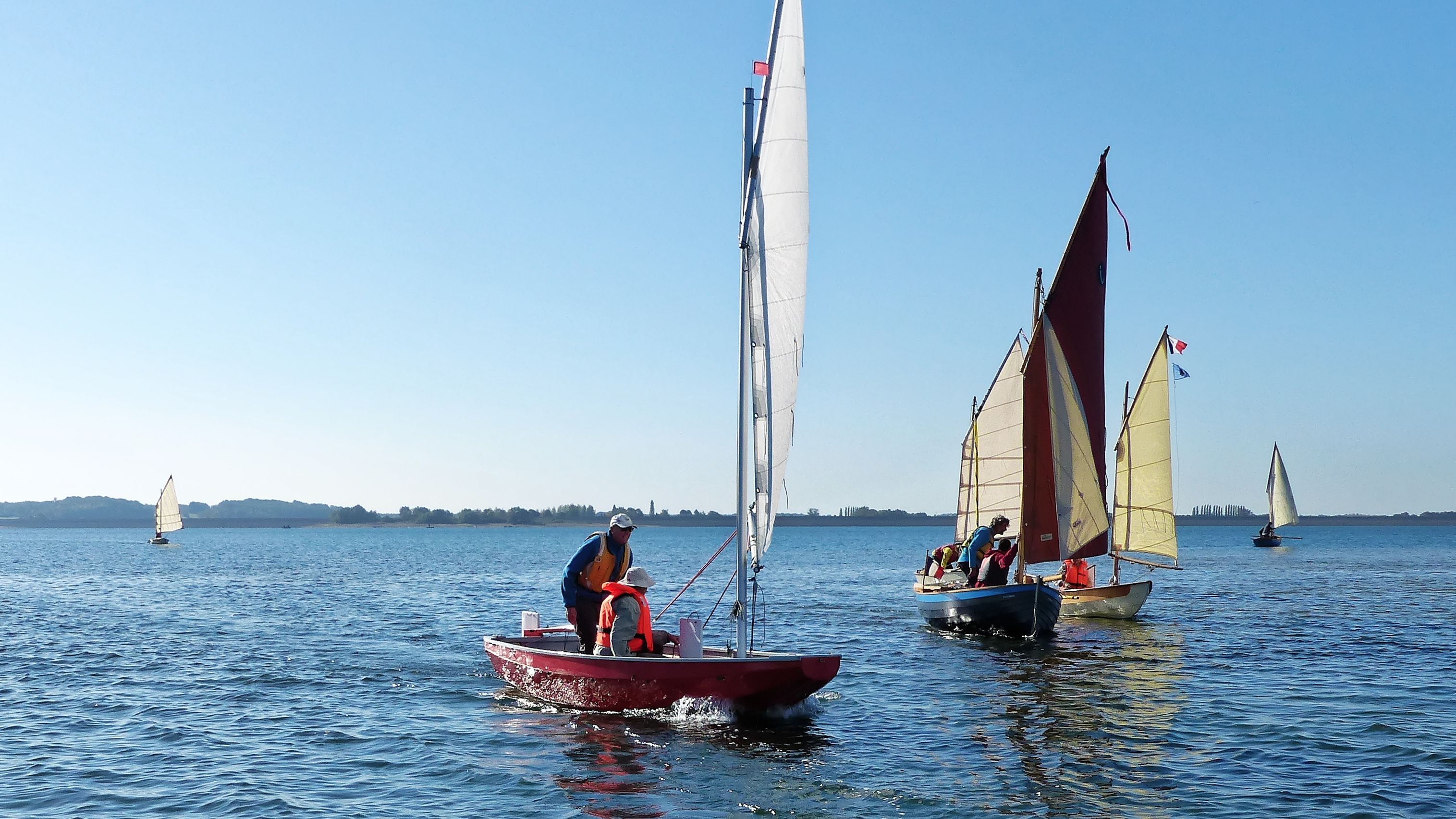 Rene and Yves on Hatseflats, Ilur, Skerry. Photo Emmanuel Conrath
Kanoteko, Whilly Boat, CLC dory. Photo Emmanuel Conrath
Koos 'planking' on Artemis canoe. Photo Emmanuel Conrath