20180624
20180625
20180626
20180627
20180628
20180629
20180915
20181014
20190422
20190510
20190511
20190512
20190525
20190601
20190803
20190804
20190805
20190807
20190819
20190820
20190821
20190822
20190823
20190828
20200216
20200603
20200612
20200712
20200718
20200719
20200727
20200822
20200905
20200910
20200911
20200912
20200913
20200920
20210305
20210509
20210724
20210905
20210912
20211003
20220430
20220508
20220603
20220618
20220821
20220828
20220904
20220911
20221009
20230423
20230520
20230528
20230625
20230805
20230806
20230810
20230903
20230906
20230910
20230911
20231001
20231008
&lt&lt
&gt&gt
20190819
Friday
We arrived at Cobnor late in the afternoon of the 16th August. After driving around for a bit we found Cobnor and the 'Sea Park' field but nobody was there. As we were putting up our inflatable tent in the rain, Chris Waite arrived and we had a little chat.
Saturday
Chris and Hubert walked to Cobnor Point to get a feel for the area. It was warm and dry but windy. Hubert and Klarie went to Tesco's for some shopping, then on Force 4 Chandlery to buy Imray charts. Then on to West Itchenor to buy a boat sticker for the week. Just too late, the harbour office had closed 15 minutes before we arrived.
Sunday
There was too much wind for a first sail. Hubert and Klarie went to look up an old friend in the New Forest and then on to Lymington. We went to Paddy's Gap (just past Hurst Castle) to look at the Solent. Very rough with breaking waves. Once we were back at the camp we found a new neighbour, David Morl, who was camping in his Citroen Picasso - sans boat.
Monday
There was a SW4 and Hubert and Chris W launched Hatseflats at high tide with one reef. Chris steered Hatseflats to Bosham on a broad reach. Chris enjoyed helming on Hatseflats, found her light on the helm and responsive but more tender than he had expected. Once past Bosham we headed back to Cobnor. The upwind stretch was quite wet as we were weaving between moored boats.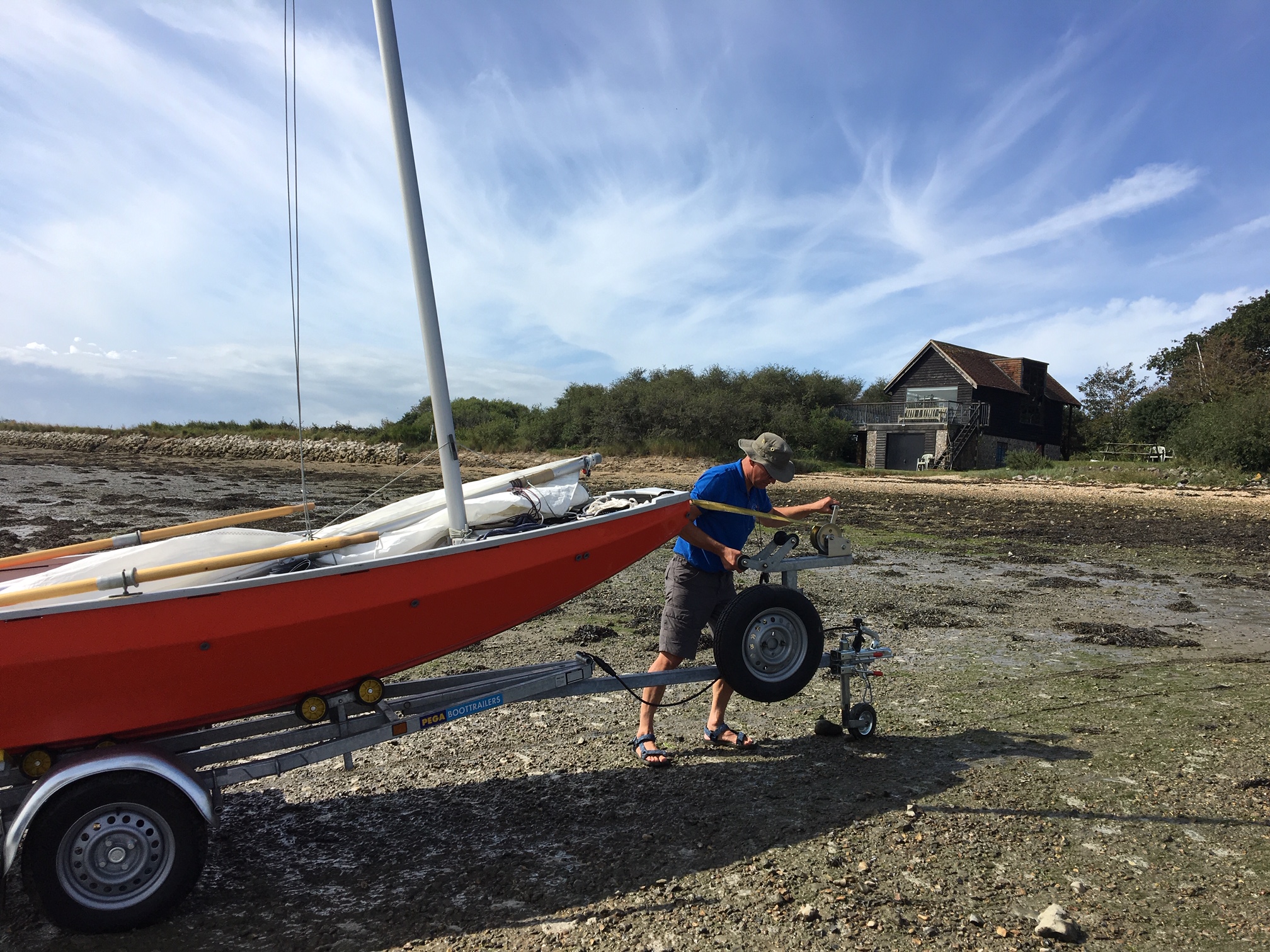 Using the road trailer as a trolley