Raid Not Very Extreme 2020
Appeared in Dinghy Cruising Journal 248
With Covid-19 it was a lottery how many sailors would attend the Raid Extreme 2020. The requirement for social distancing meant that our German friends from Bremen could not bring their big 6-person canoe. Two sailors from the UK found the risks too big. We were pleasantly surprised that French boat builder Emmanuel Conrath and 5 friends decided to come over to the Netherlands to sail with us.
As they were preparing for their trip, some of them found themselves in an 'orange zone' which required them to self-isolate in a yellow zone for 10 days before they could travel to the Netherlands. This sadly put an end to a promising new development.
Emmanuel, Yves, Gerard, Marco, Benoit and William, we hope to see you next year. So for the first time, we had an exclusive Dutch event with a gaggle of 8 boats.
Wim and Joke with wet bicycle cat
Koos with Artemis sailing canoe
Bert and Ton with big catamaran
Hubert and Klarie with norwegian pram
Onno and Anneke with Caledonian Yawl
Hans and Margreet with two-master rowing/sailing sloop
Ben and Yvonne with Vivier-designed Jewell
Joost with Storer-designed Viola 14
Friday
Most sailors and their boats travelled by car and trailer. It was sunny blowing W4. After lunch Hans and Margreet, Joost, Hubert and Klarie took their boats for a spin round the Schoenerbult island in the middle of the Lauwersmeer. Ben and Yvonne and friends Herman and Eliane arrived a later with their Vivier-designed Jewell. We had a nice meal on the terrace of Iterij bij de Mune in Anjum.
Saturday
We started at 0900 hours with a W4. The plan was to stop at Ezumazijl and continue to Dokkumer Nieuwe Zijlen to meet Onno and Anneke. It was enjoyable sailing with a bit of sunshine and a bit of cloud. Hans and Margreet headed the fleet with the very quick Wuptem. Then Bert and Ton overtook them with their big cat 'Feng Shui', occasionally reaching 19 knots.
While we were admiring the spectacle the fleet was hit by a rain squall just as we were heading towards Ezumazijl. We lowered the sails and started rowing in the canal. The rain stopped just as soon as it had started. After admiring the picturesque lock at Ezumazijl we found that the wind was increasing and put in a reef. As we continued on a broad reach down the Dokkumer Diep our little fleet was met by Onno and Anneke in their Caledonian Yawl 'Gjoa'.
Together we sailed on towards Dokkumer Nieuwe Zijlen and moored at the Marrekrite site near Kollumeroord for lunch. Bert and Ton arrived a little later, having made numerous sorties to the Lauwersmeer to kill the time. They produced a gas stove and heated up tins of 'Erwtensoep' (pea soup) which is proper winter food. You know it is cooked properly if you can make your spoon stand in the soup without falling over (the spoon, that is). Anyway the hot soup was really welcome since the wind was piping up again.
It was now blowing a good W5 so we decided to return to Oostmahorn. Most boats put in an extra reef. In the channel to the Lauwersmeer we needed to tack a few times. Once on the main lake the waves were building but we were safe sticking to the windward shore. By 1600 hours we were all back at Oostmahorn including Wim and Joke on their Wet Bicycle.
At the prize giving newcomers Ben and Yvonne and Herman and Eliane were awarded with the Motivation award. The endurance trophy went to cyclists Wim and Joke who were knackered after pedalling 30km. The main trophy went to grandmasters Hans and Margreet who would have won flat out had there been a race. They would have won the innovation trophy as well for accidentally inventing the Saensche Snippersjips by driving over packets of crisps with their van.
Sunday
After breakfast at the Omaho club house, Ben and Yvonne sailed back to Zoutkamp with Herman and Eliane. Hans and Margreet headed off to Lauwersoog and a trip to the isle of Schiermonnikoog off the coast. Onno and Anneke took Gjoa back to Dokkumer Nieuwe Zijlen. Koos, Hubert and Klarie sailed round the Schoenerbult island with a lunch stop at 'Gin and tonic' island. It was a relaxed trip with NW4 and not much waves. Round trip: 19km Koos made a nice short video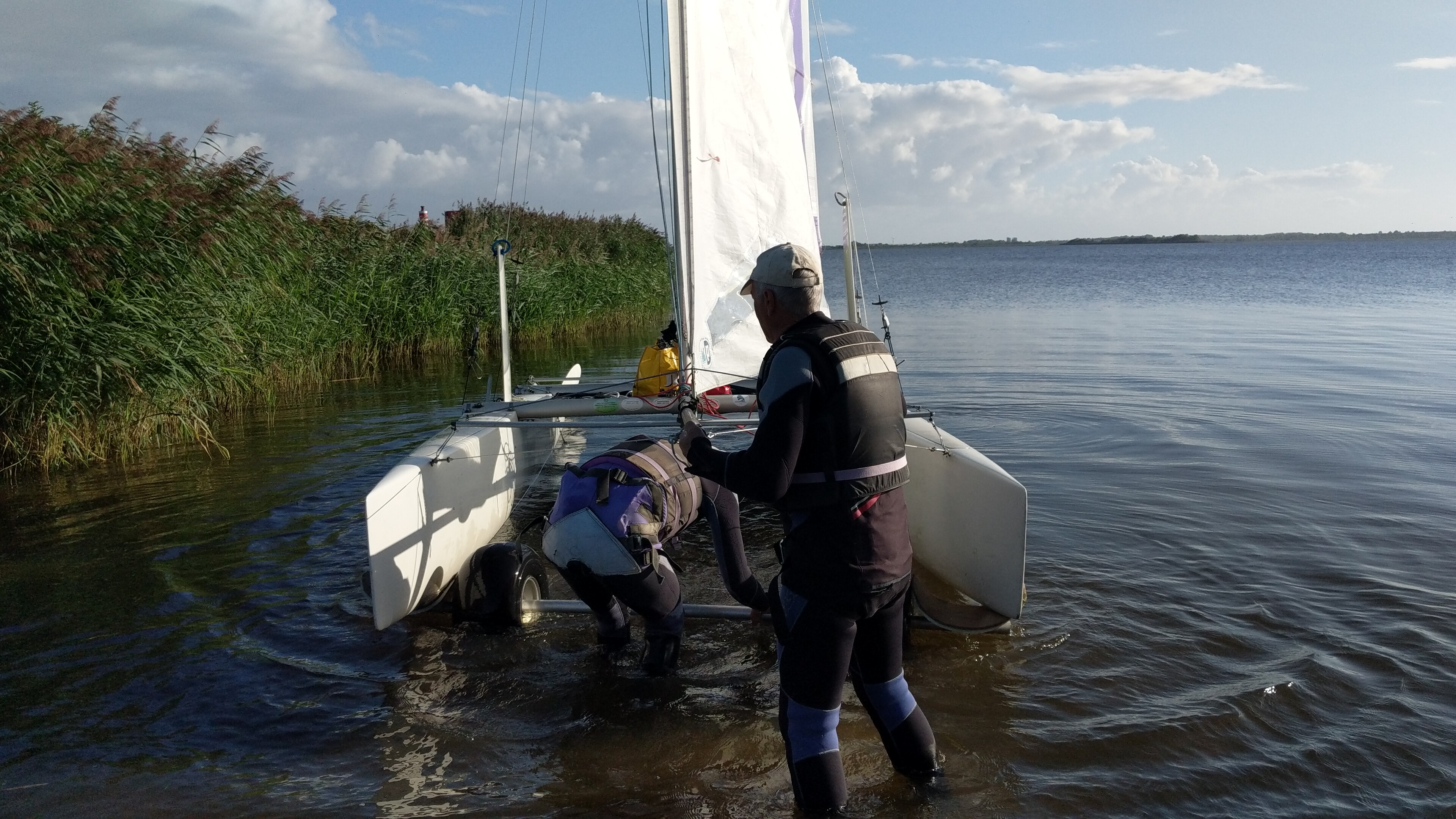 Launching Feng Shui - photo Koos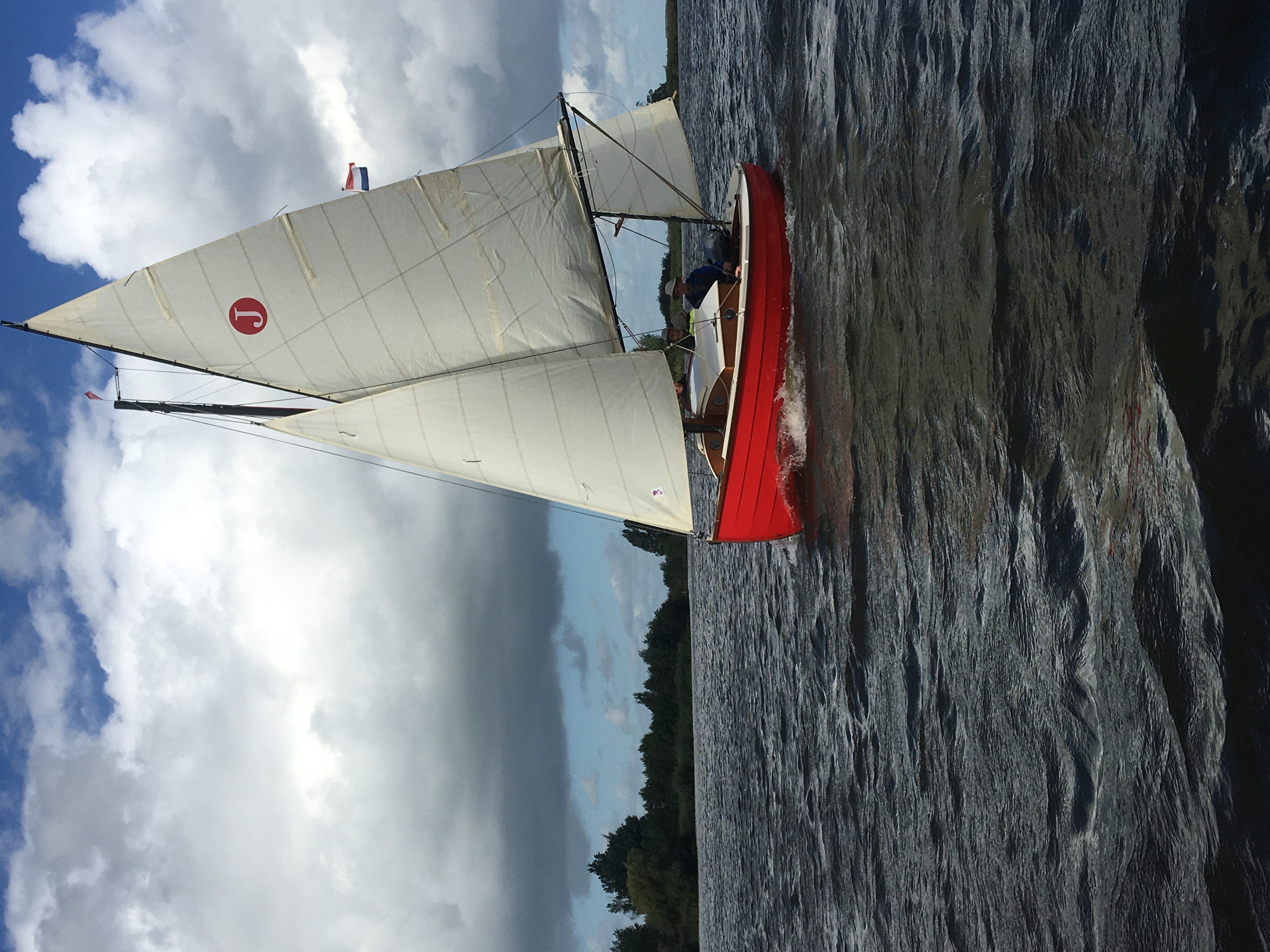 Jewell likes it wet and windy - photo Anneke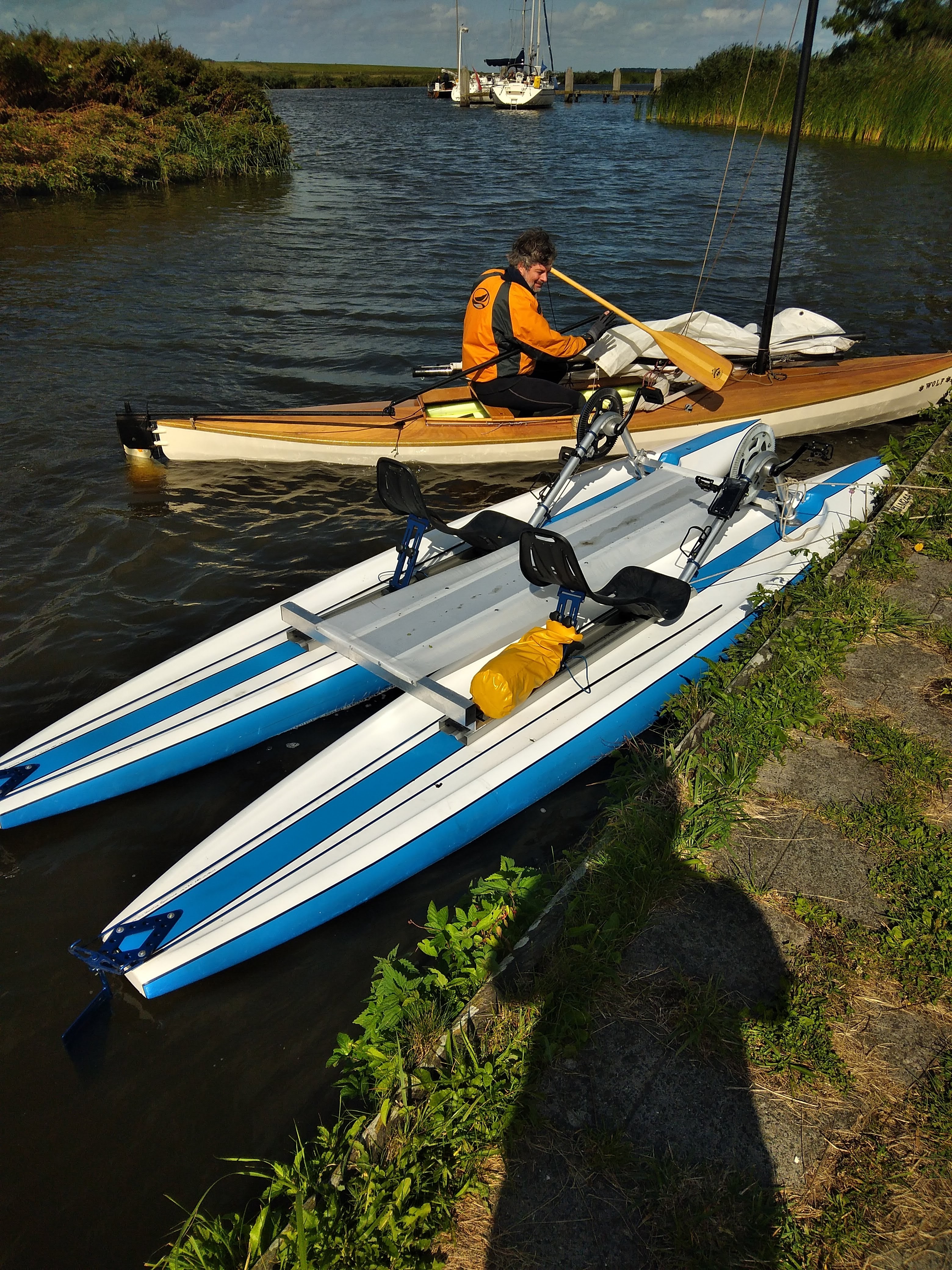 Lunchtime - photo Joke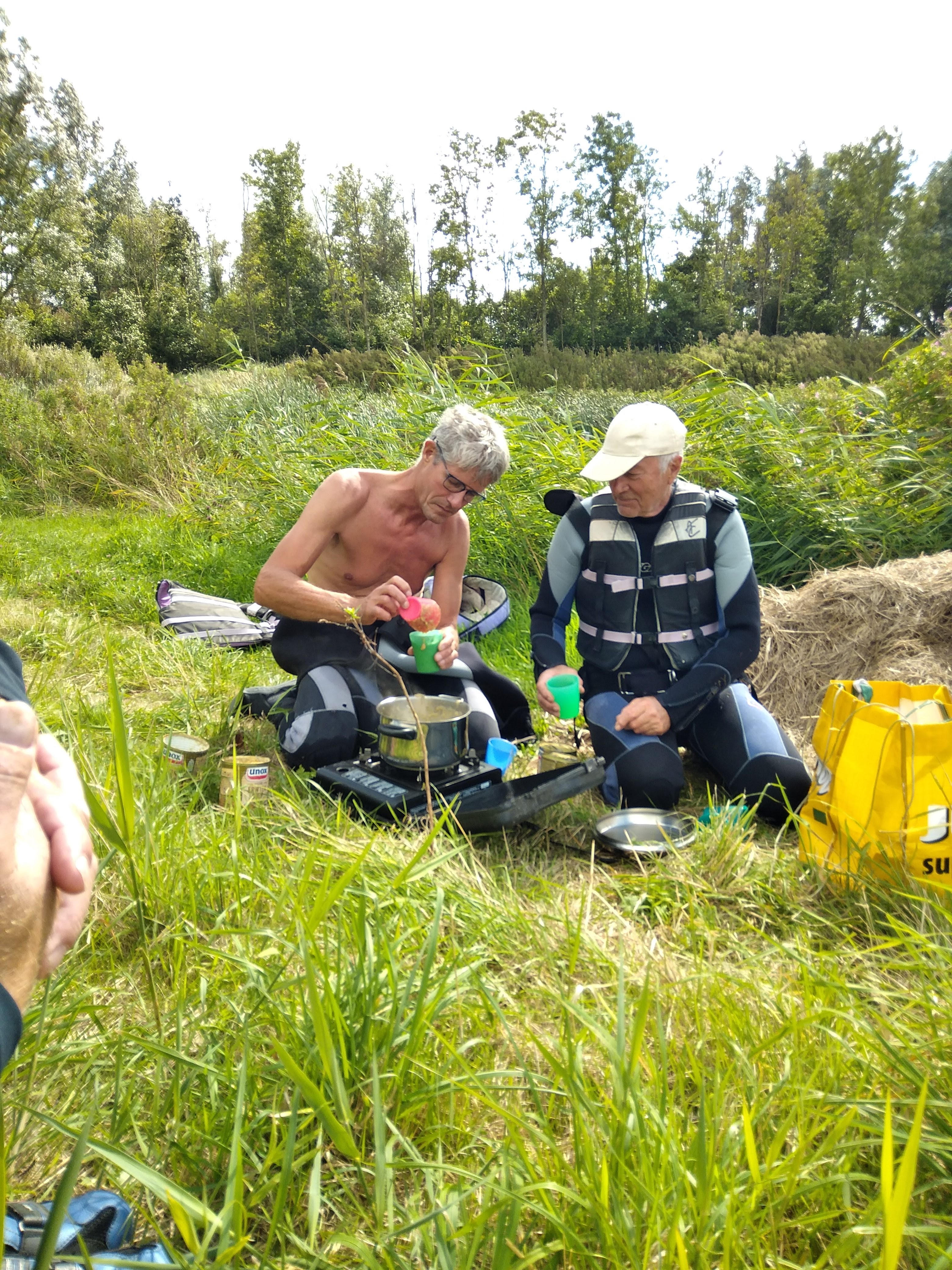 Dejeuner sur l'herbe - photo Joke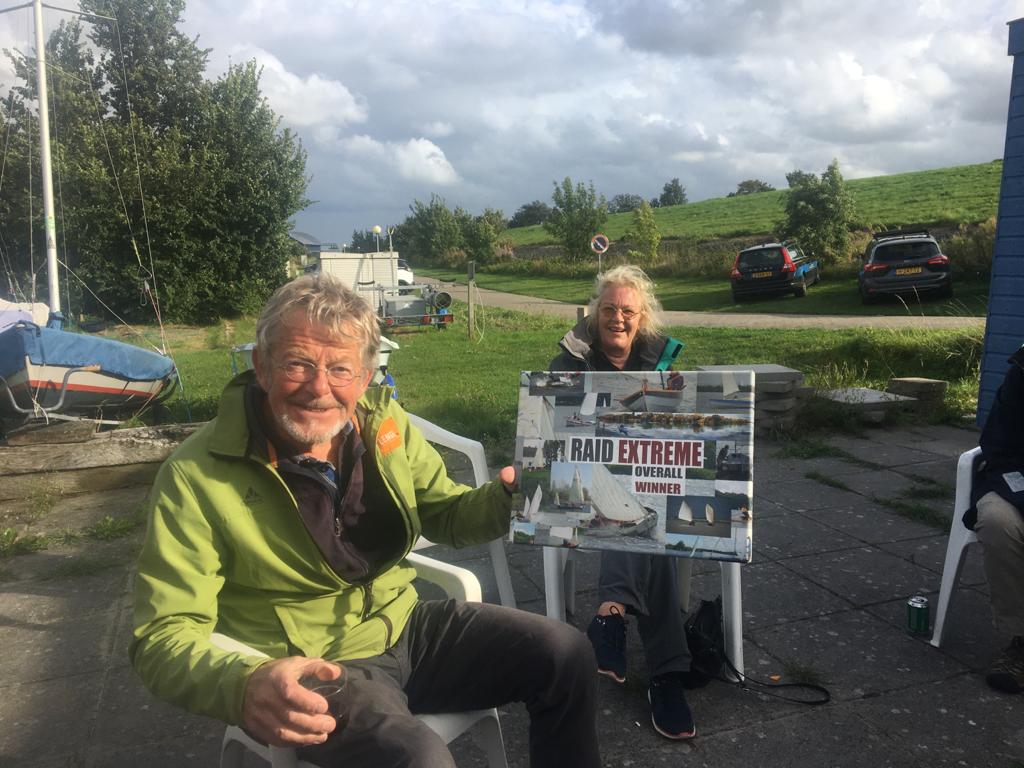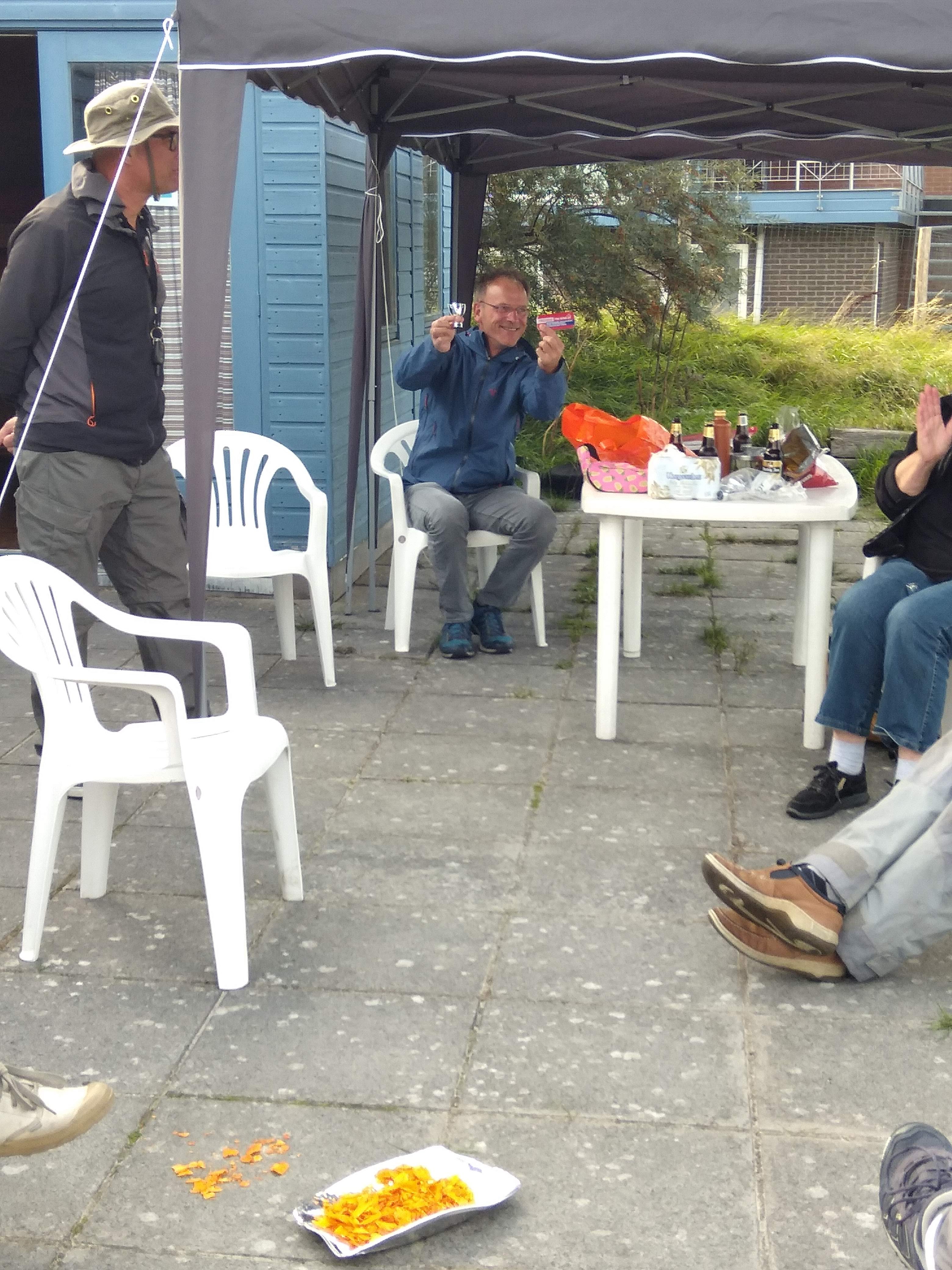 Wim with endurance trophy - photo Joke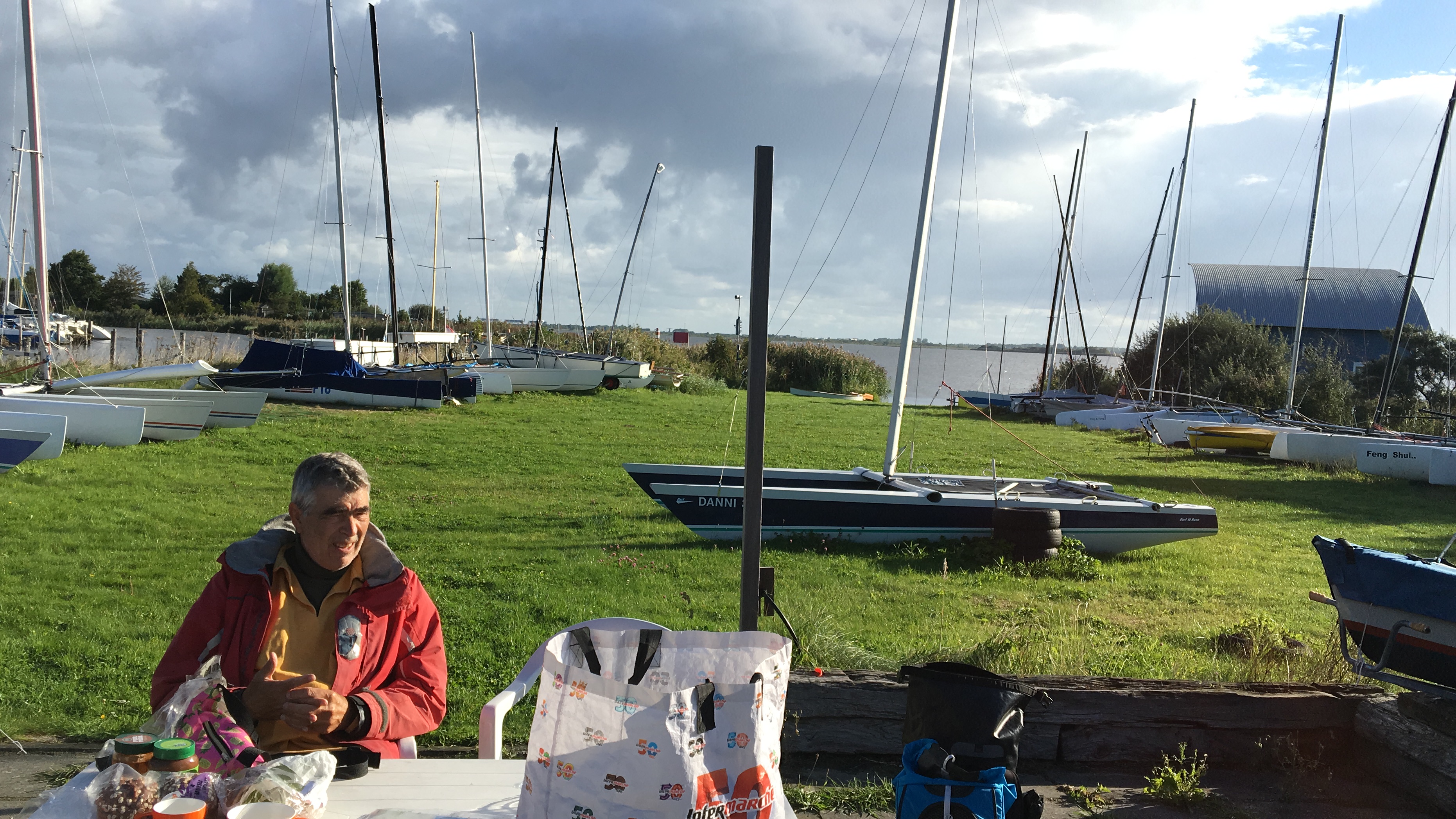 Onno has breakfast - photo Anneke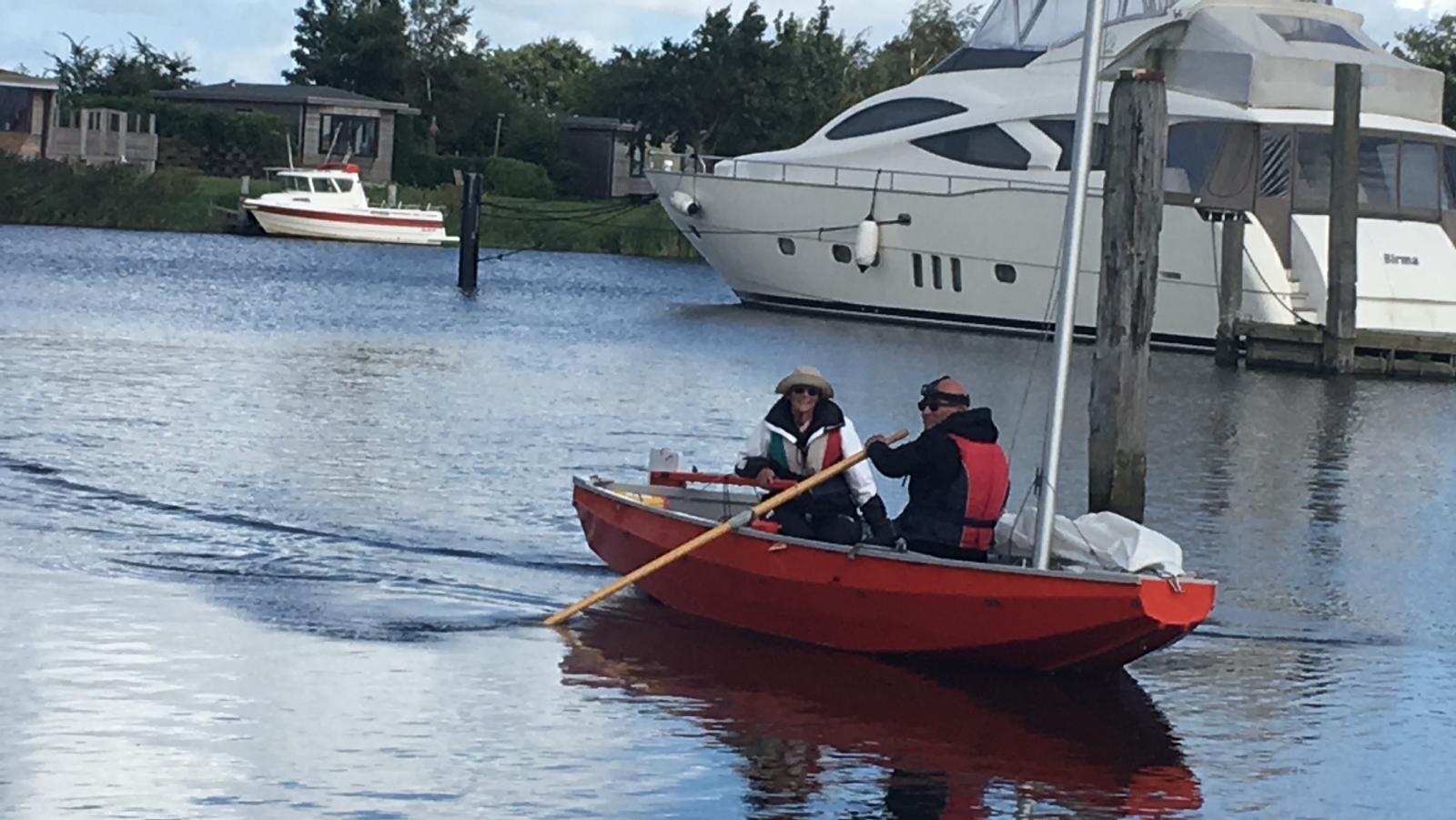 Hatseflats - photo Joke