A Deck Tent for Hatseflats
Submitted to Dinghy Cruising Journal
One of the main attractions of dinghy cruising is the freedom of sleeping aboard your own dinghy. No need to queue for a berth in a marina or hauling your camping gear across a busy camp site.Just put your boat and yourself at rest, put up your tent and enjoy the quiet once everyone is gone home.At least, that was my romantic idea when I decided to go dinghy cruising.
After experimenting with a boom tent, Klarie and I compromised by taking our camping gear on board and camp on land.We loaded Hatseflats with a 12V battery, cooker, water containers, inflatable tent and Exped mattresses and enjoyed some glamorous camping at waterside camp sites. However, sailing as a freighter proved to be slow and a little boring.So in the Autumn of 2019 I lightened Hatseflats of 52 kgs by removing the 12V battery, cooker, water containers and the heavy tent and mattresses.
We found a small tunnel tent that fitted perfectly between the gunwales, opened to port and starboard, weighed only 2 kgs and fitted in a 20L watertight bag. I installed wires with snaphooks to fasten the tent to the sleeping platform.With the sleeping platform in place it only takes 10 minutes to put up the tent, and 5 minutes to take it down.Because the tent is quite narrow we reverted to using our inflatable sleeping mats (50cm wide and 500g each).Net savings were now 50kgs (mostly by ditching the 12V battery).
Due to Corona restrictions it was early June when we had our first camping trip with Hatseflats. At that time the camp sites in the Netherlands were still closed which meant you had to sleep on board and be self-sufficient.
We have now camped on board several times in our new deck tent and learned a few lessons:- the deck tent is easily fastened with snap hooks on (Dyneema) wires.- it is quite comfortable to have an inner tent (holds body warmth better and protects against flies and midgets)- space in the tent itself is at a premium if you are two-up. Stow your gear in waterproof bags outside the tent as much as possible. - spars and sail must be secured to the boat to provide good hand holds.- sleeping on board is harder than you think. Get used to it before camping several days on board.- sleeping at anchor is harder than alongside a jetty.
The photos show how the tent is put up on deck.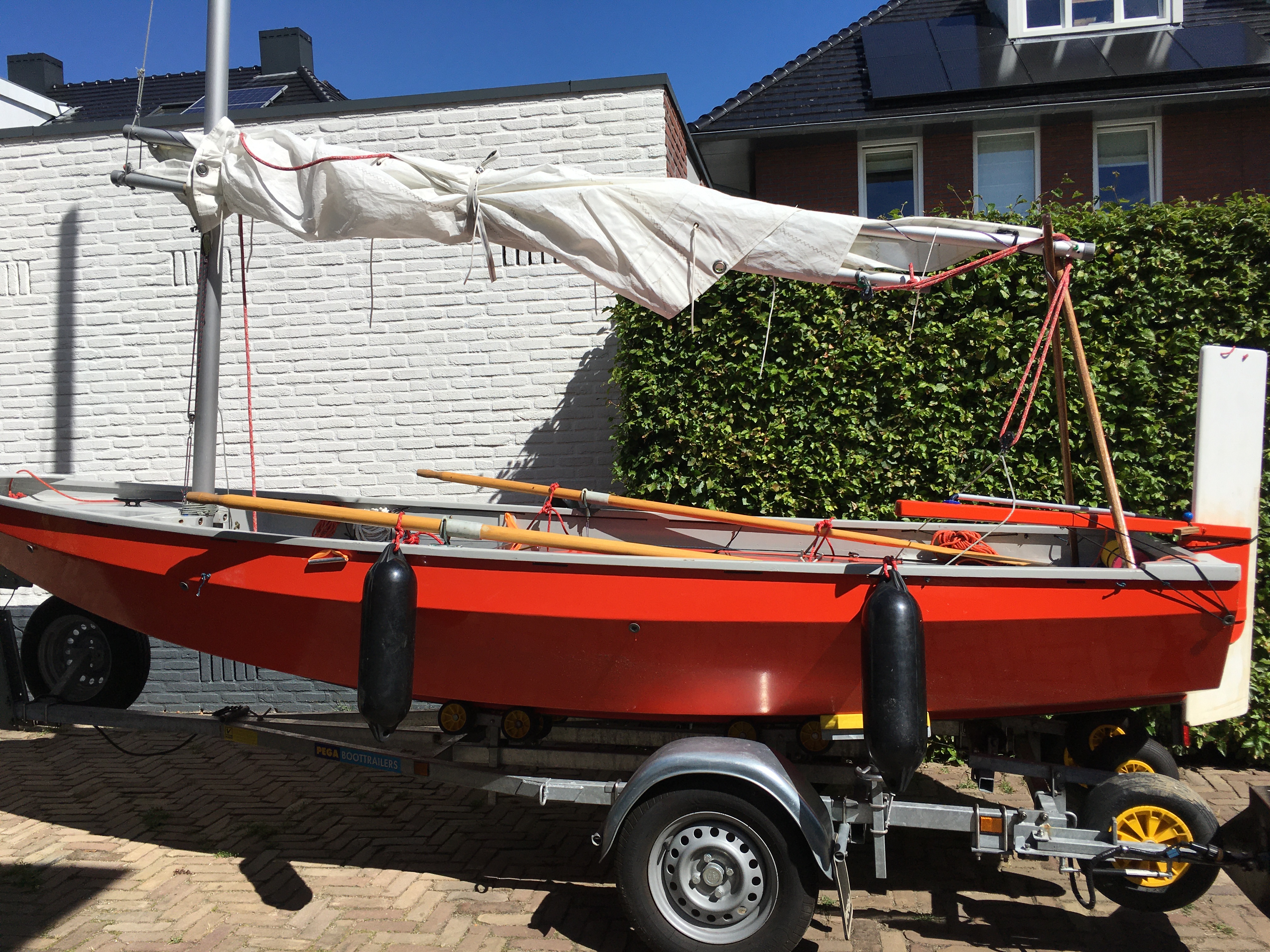 Get the boom out of the way before you start.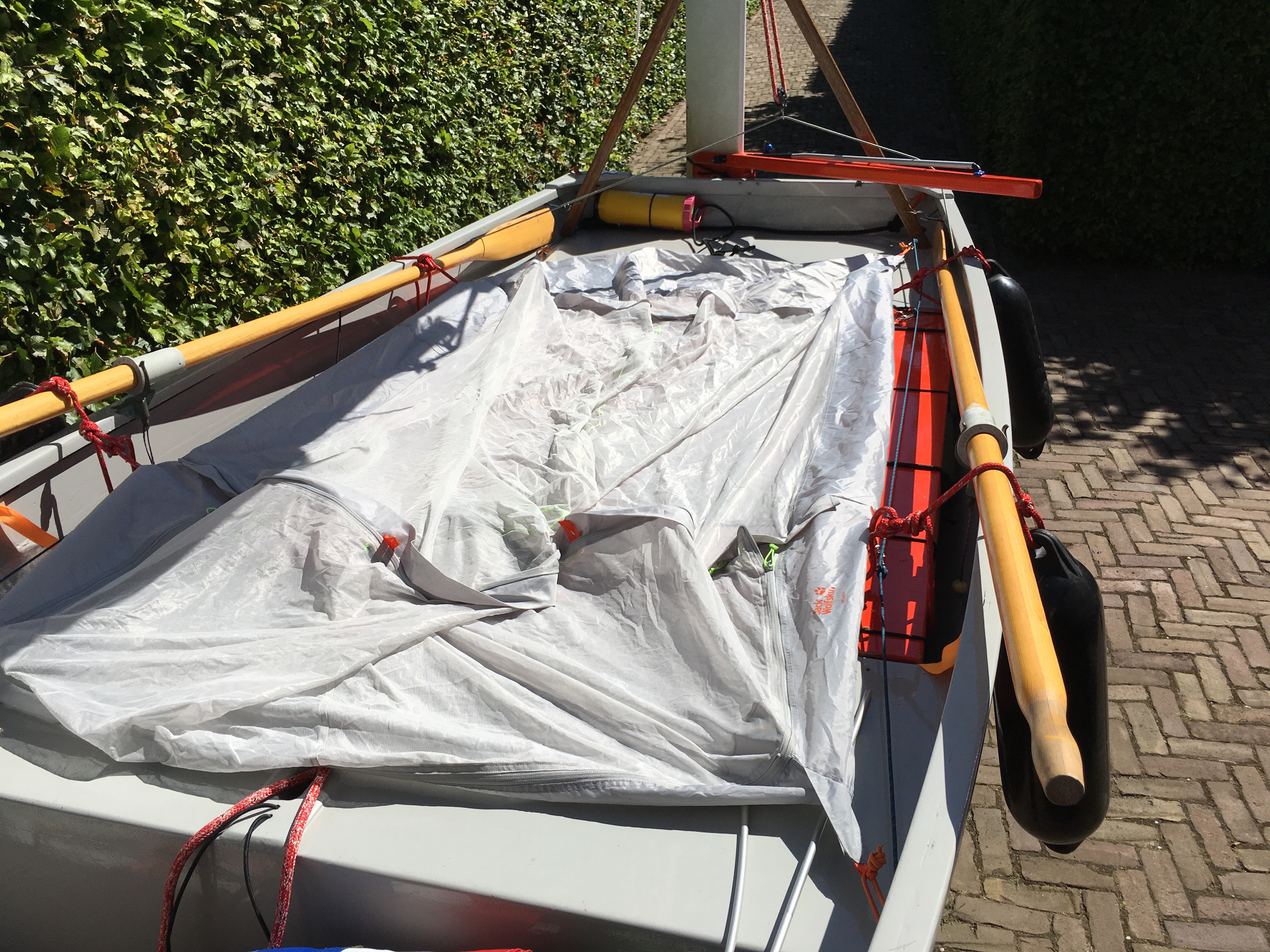 Tie inner tent to snap hooks along the gunwales.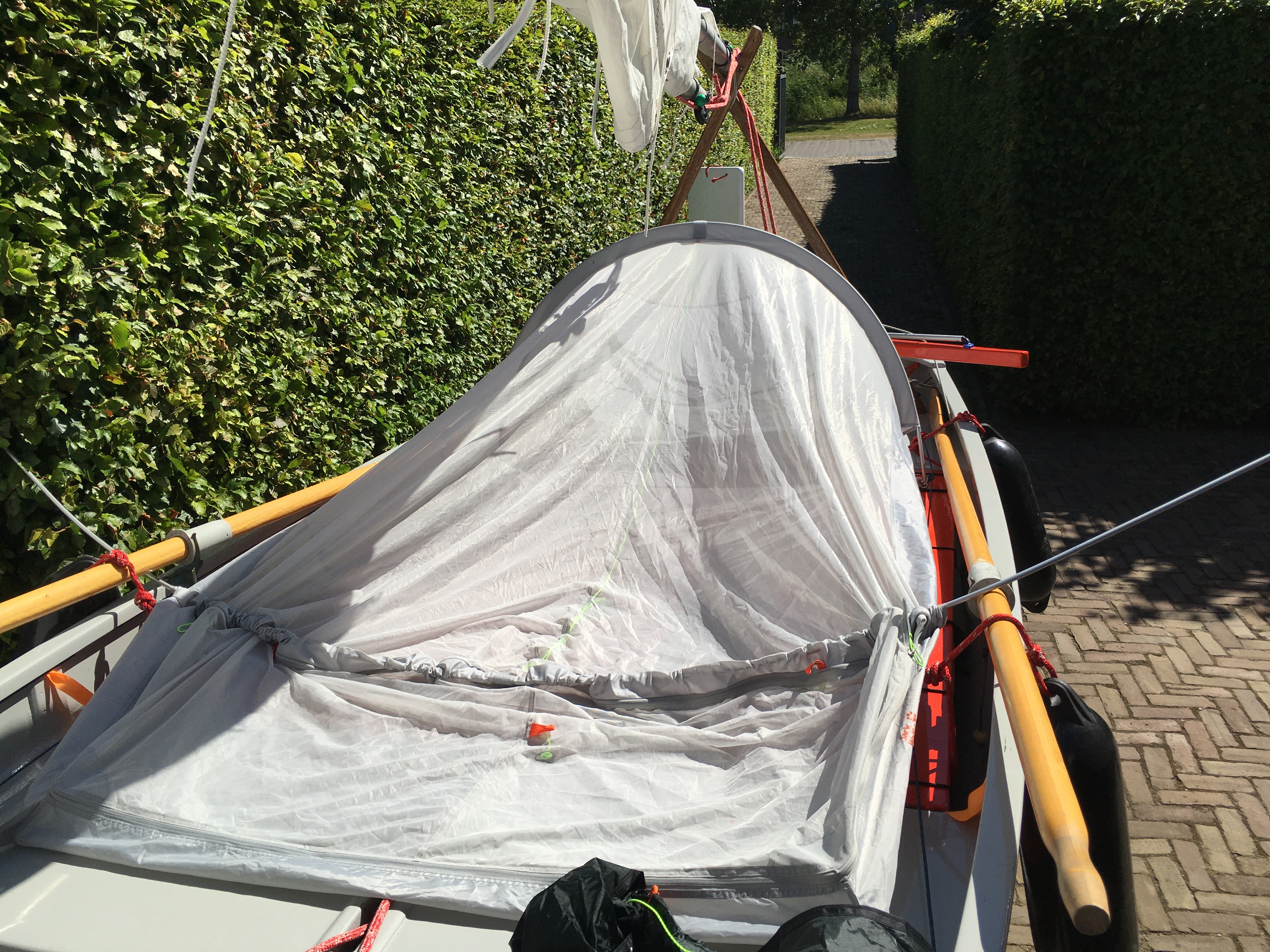 Put inner tent up working back to front.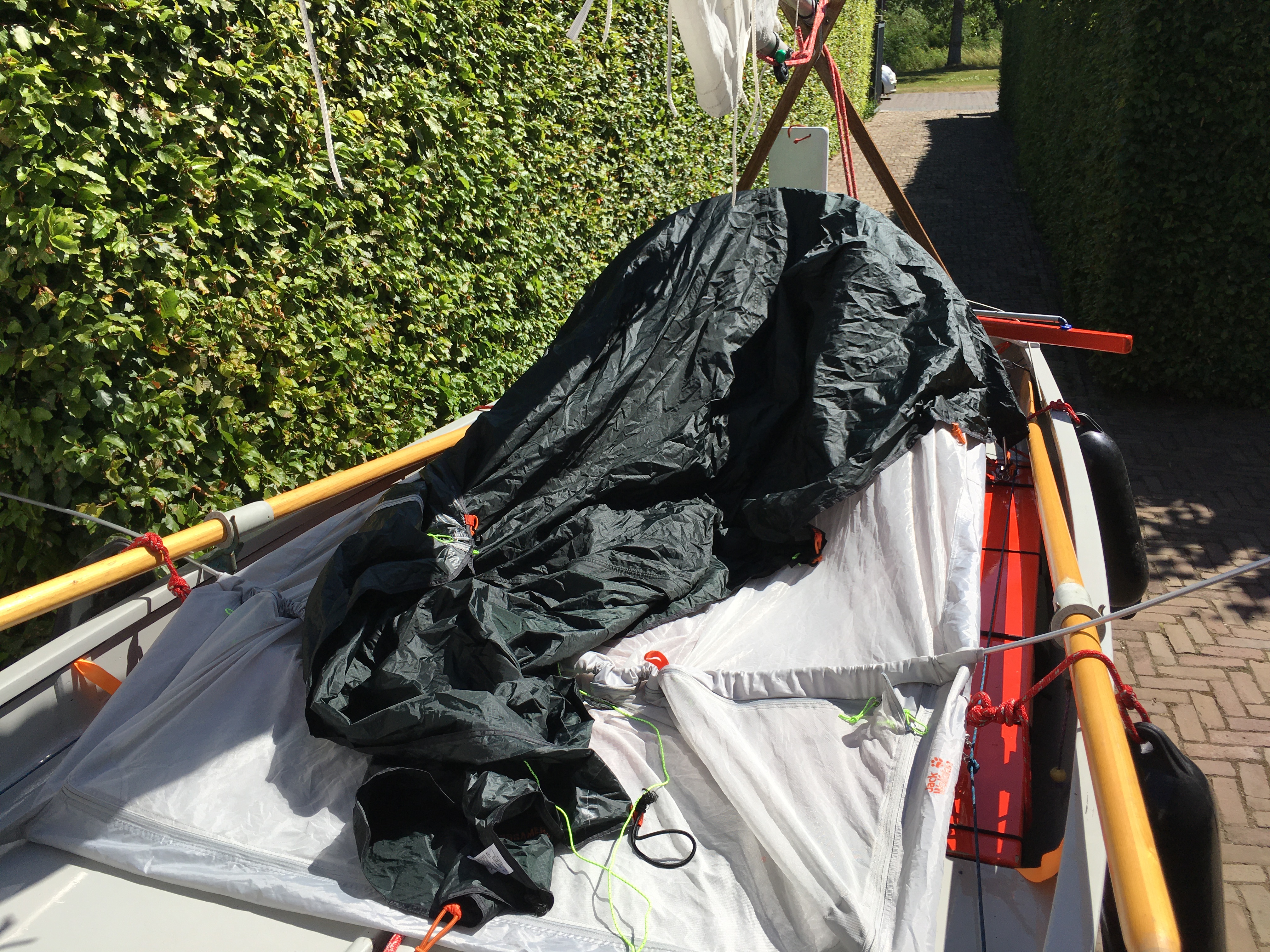 Put outer tent over inner tent working back to front.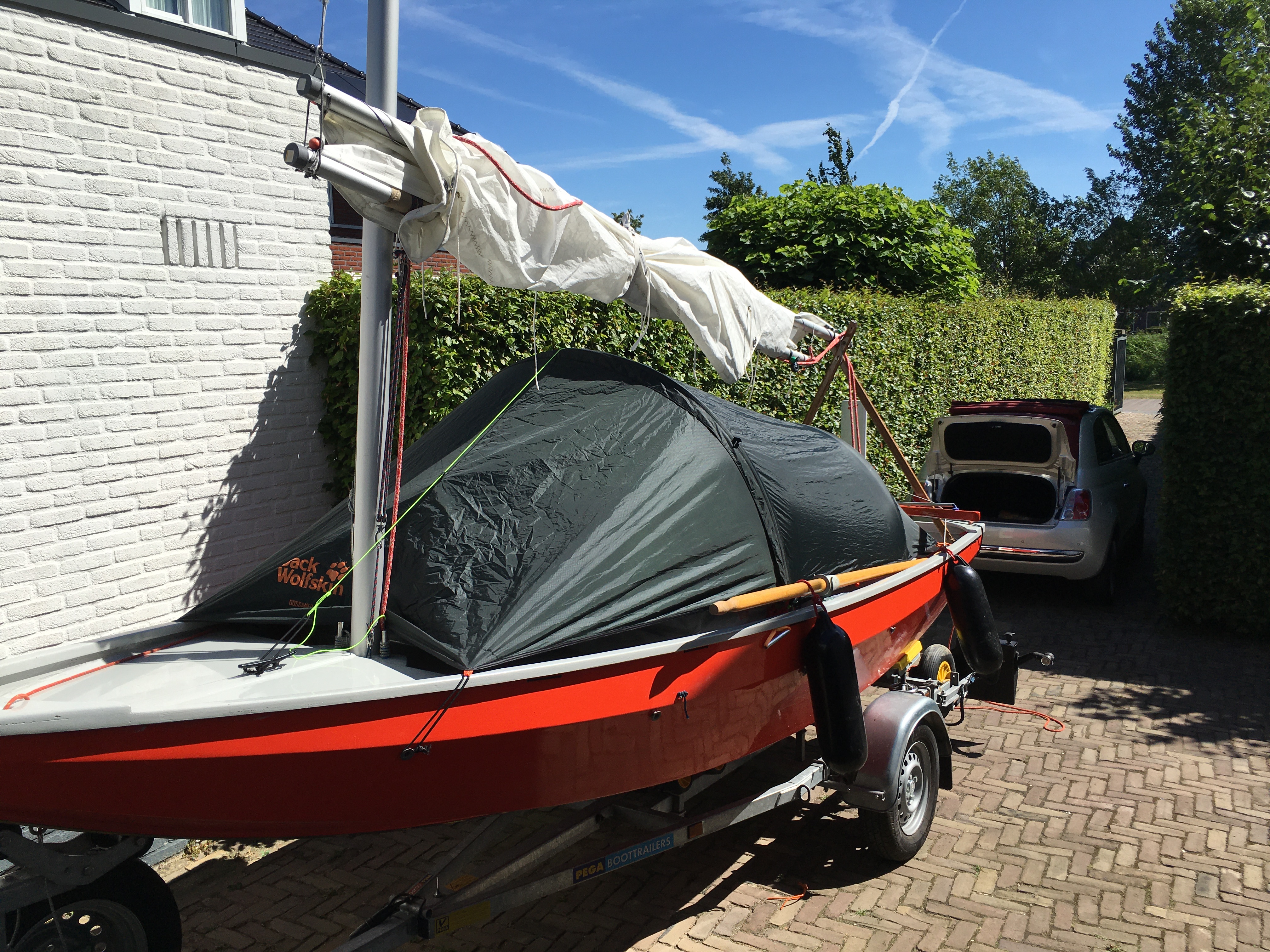 Ready for use, tent opens to port and starboard.